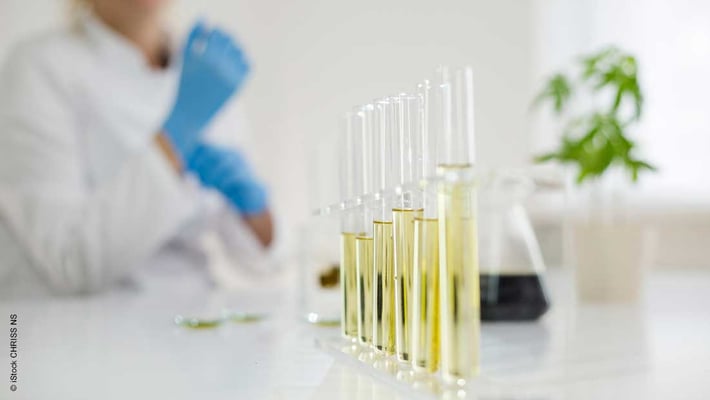 CBD oil has long been part of our everyday lives. Whether as a lifestyle product, food supplement or in cosmetics. High quality is of great importance, because impurities can lead to a loss of effect, taste and digestibility. The extraction process used plays a decisive role, along with other factors. Find out why CBD production with high-purity hydrocarbons ensures the best quality.
The quality of CBD products: This is what you should look out for
Nowadays, CBD oils are offered in many varieties and concentrations. In order to recognise the highest quality among the abundance of products, the following factors provide guidance:
Varietal purity
In order to extract CBD from the plants, mainly hemp varieties are bred in which the CBD content is particularly high and the THC content is low. In total, there are about 50 varieties that guarantee a very high CBD content. They are defined in a seed catalogue of the EU.
THC content
Those producers who attach importance to quality label the THC content on the packaging, as it is regulated by law in most countries.
Ingredients
A listing and disclosure of the ingredients also speaks for a producer who focuses on quality and transparency.
Independent analysis
Tests and analyses by independent laboratories or institutions indicate that manufacturers pay attention to high quality and have their products externally tested.
Manufacturing process
The manufacturing process is a decisive factor in determining the quality and thus whether it is as free of impurities as possible.
This blog article could also be of interest to you:
---
Excursus: What is the difference?
CBD oil is extracted from the cannabinoid cannabidiol and should therefore have the lowest possible THC content. Cannabidiol is mainly extracted from the hemp flowers and leaves of potentised female hemp.
CBD isolate also consists of cannabidiol. However, this is isolated during the manufacturing process, resulting in crystals that consist mostly of cannabidiol. The product is thus offered as CBD isolate or CBD oil with crystals.
Hemp seed oil or hemp oil is produced by cold pressing hemp seeds and does not contain CBD or THC. Due to its many useful fatty acids such as linolenic acid and omega-3 fatty acids, it is particularly suitable as an edible oil.
---
The CBD production process is decisive for the quality of the oil
The method of CBD production is largely responsible for the quality of the oils. One of the most commonly used methods is extraction with hydrocarbons. In this process, the plant material is repeatedly flushed with fresh solvent in a special apparatus until it is exhausted. At the end, the solvent is distilled off and the last traces of it are removed under reduced pressure.
Solvent with pharmaceutical quality standard: The high-purity 95- or 99-percent n-heptane is particularly suitable.
One of the most important quality features is the use of this raw material in the production of active ingredients for medicines. In the pharmaceutical sector, especially in the highly sensitive production of active ingredients, the highest quality standards are set.
High-purity solvents such as n-heptane therefore ensure high quality in CBD production.
Learn more:
Conclusion
CBD production with hydrocarbons such as n-heptane enables high-purity CBD oil and also offers additional benefits. Haltermann Carless specialises in the production of paraffinic solvents with high purities and produces high-quality hydrocarbons at its Speyer site, among others for the pharmaceutical industry. Our n-heptane offers manufacturers of CBD oil several advantages at once:
Since the natural substance CBD is not particularly soluble in water, paraffinic solvents are an excellent choice.
Extraction with hydrocarbons like n-heptane is a well-known and easy-to-perform process.
We offer qualities in 95 and 99 percent purity.
n-Heptane convinces by its quality with pharmaceutical standard.
Our paraffinic solvents are "Made in Germany".
Would you like to know more about our products? Then we recommend these pages: