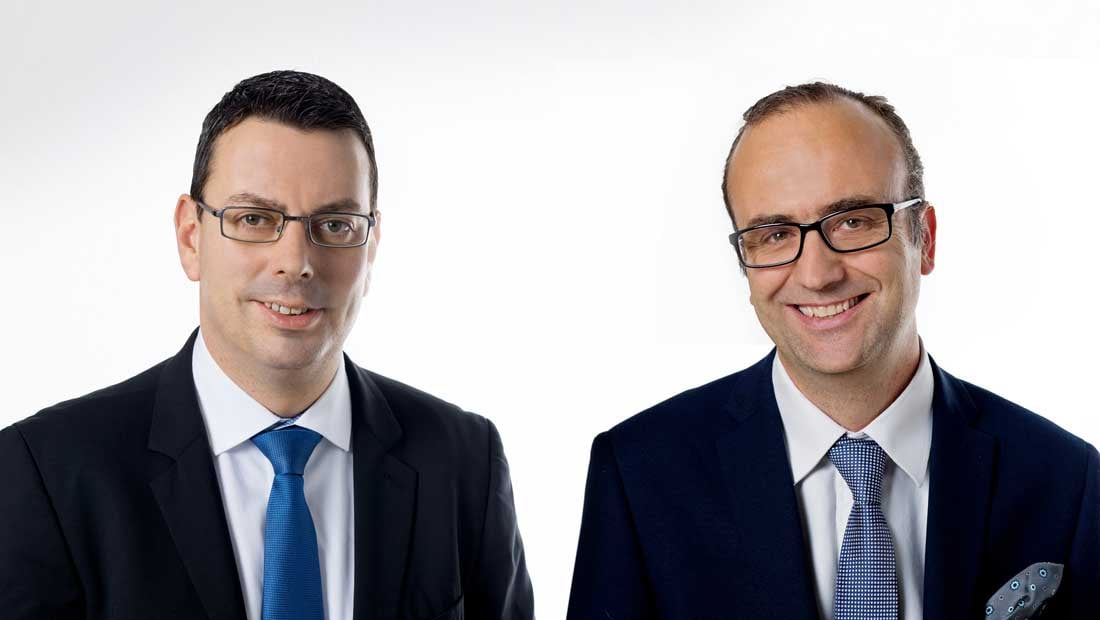 Haltermann Carless introduced a group-wide Sustainability Strategy in 2022. Offering customers alternative solutions builds on the companies' commitment in the strategy to drive portfolio change and bring GHG reductions in the supply chain. The mass balance approach is now another important building block that Haltermann Carless is implementing in order to be able to offer GHG reduced Pentane. How exactly this works, how challenges were solved and what added value customers can expect are explained in an interview by René Tessmann, Senior Vice President Business Unit Industrial and Chris Hutchinson, Senior Vice President Corporate Development & Sustainability.
Photo: René Tessmann (left side) and Chris Hutchinson (right side)
"Mass-balanced Pentane is an important step towards a full circular economy."
How does the mass balance approach contribute to greater sustainability?
Chris Hutchinson: The mass balance approach is a very good way to gradually replace fossil raw materials with renewable ones. In practice, renewable and recycled raw materials are mixed with fossil ones to produce a lower-carbon product. Mass balancing is thus an important step towards a full circular economy and bioeconomy.
Crucially, the mass balance approach also gives us a lot of transparency and traceability throughout the supply chain.
Why did Haltermann Carless opt for the mass balance approach?
Chris Hutchinson: For us, the certified mass balance approach is a logical step in our sustainability strategy. We have been involved with biogenic feedstocks and sustainable hydrocarbon solutions for over 10 years and are constantly expanding our knowledge in this field. This is demonstrated by our long-standing wide range of sustainable products, such as our up to 100% renewable racing fuels, our bio-based iso-dodecane for cosmetic formulations or our green X-Fuel® for outdoor power equipment. Our mass-balanced Pentane is an ideal supplement to our existing portfolio.
René Tessmann: As experts, it is important to us that the solutions we develop also meet the strictest sustainability criteria. Mass balance can guarantee this because it is linked to ISCC PLUS certification (International Sustainability & Carbon Certification) - a globally recognised system for recycled and renewable materials. It enables traceability throughout the entire supply chain as well as the verification of specific environmental and social standards. This is something that has convinced us of the true benefits of GHG reductions and is also of great importance to our customers.
In addition to the clear added value for climate protection - how do your customers benefit from the mass-balanced pentane portfolio?
René Tessmann: We are a global leading producer of Pentanes and we want to play this role in terms of sustainable developments as well. With our mass-balanced Pentanes we are contributing to these new and exciting developments. Compared to conventional Pentanes, our products with the mass balance approach have a significantly lower GHG emissions. At the same time, they have the same high quality and can be easily integrated into existing production processes. We thus offer a cost-effective solution on the way to a true circular economy and support our customers in achieving their sustainability goals.
Chris Hutchinson: Another important aspect, which also plays a key role for our customers, is verifiability - I mentioned it earlier. The ISCC PLUS certified mass balance approach uses consistent and valid data. This demonstrably enables a reduction of GHG emissions in the supply chain.
Your mass-balanced Pentanes offer your customers an ideal solution to their sustainability challenges. What challenges have you had to overcome?
Chris Hutchinson: We manufacture our mass-balanced Pentanes at our production site in Speyer, Germany. This was a new venture for us and we spent some time working with our supply chain partners to ensure we were able to continue the chain of ISCC Plus certified material. We were clear from the start that we wanted ISCC Plus certification to ensure we could offer a product with some credibility in terms of GHG emissions. Carbon accounting has come a long way in the past five years, however, we wanted to be consistent, clear and transparent with our approach, thus building on existing standards and implementing our internal procedures to best effect.
We found many challenges along the way but, by adopting a collaborative team approach, we worked through the changes so we had clear input and output data as a basis for our GHG calculations. Most importantly we set-up new materials on our inventory reporting system to keep the BMB materials separate from other materials.
We spent some time ensuring our team were well trained and understood the mass balance concept including our accounting and processing colleagues. When we put our system together we were successfully audited and were justifiable proud of the work we had completed both internally and for the benefit of those customers that wish to take advantage of these materials.
Sustainability is an important strategic premise at Haltermann Carless. What are the next goals towards more sustainability?
René Tessmann: The mass balance process is an important building block in our sustainability strategy and the right way to a full circular economy and bioeconomy. We have now successfully implemented this for our Pentanes for the first time. However, we also want to use the mass balance process for other products.
Haltermann Carless has set clear targets and goals for the coming months as we push towards offering customers alternative solutions that can make a quantified difference in GHG emissions. Bio mass balance is one tool we have to use as part of the global emission reduction initiatives as we search for lower emission alternatives. As a market leader in supplying customers with tailored solutions we are always looking to widen our portfolio of products that can be produced in a way that has less impact on our planet.
Chris Hutchinson: As a pioneer of sustainable, high-purity hydrocarbons, we are of course always thinking one step ahead. The development of new possibilities for less carbon intensive alternatives is the basis of our daily work. We look at all aspects - from the procurement of biogenic and recycled raw materials to resource-saving production processes and a sustainable supply chain. In product development, we continuously explore how we can offer sustainable product solutions to the market and our customers. Thanks to our strategic partnerships with feedstock suppliers, we are well positioned here and have a variety of projects in our pipeline. One of our most ambitious undertakings is certainly to become the first Sustainable Aviation Fuel (SAF) manufacturer in Germany and to produce the first sustainable fuels in 2026.
Thank you very much for the interview!
Contact us for more information about our mass balance Pentane!