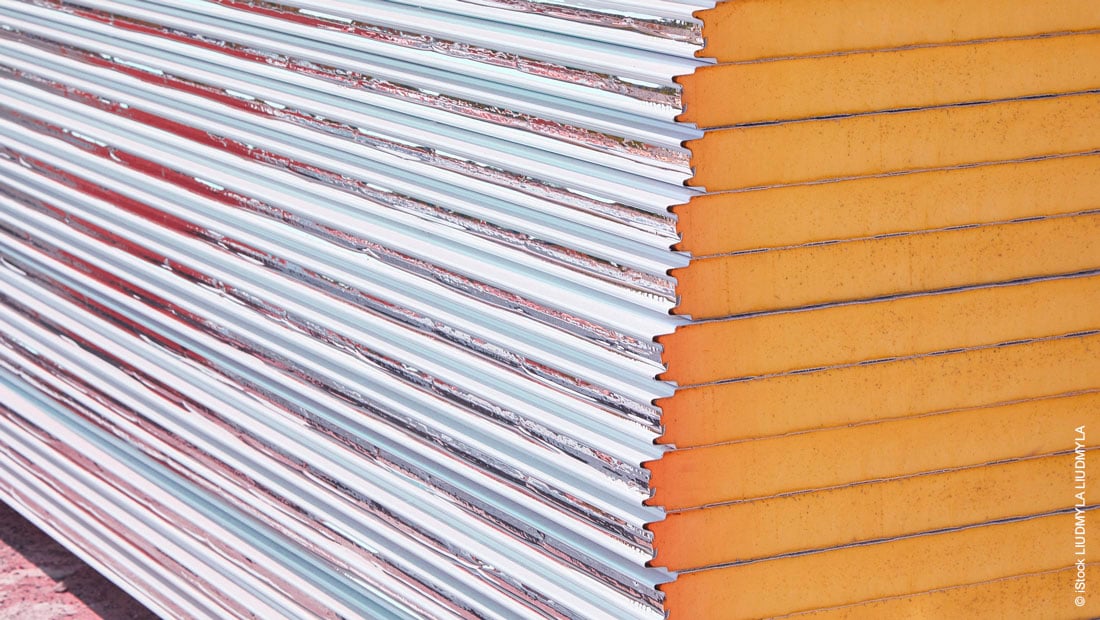 Polyurethane or polystyrene insulation boards can be foamed using various processes. Which process is used is primarily a matter of ecological and economic considerations. Pentanes are the foaming agent of choice. Their high performance and sustainability are particularly convincing. In this blog article, find out which products are currently used in the insulation industry and what increasing role Pentanes are playing in the production of insulation materials.
Which products are suitable for the production of insulation materials?
Sustainability and resource conservation are becoming increasingly important to consumers and manufacturing companies. Consumers are looking for household appliances with the highest possible energy efficiency and for building insulation to save heating energy. It is therefore not surprising that the market for insulation and thus insulating materials is growing.
Two of the key industrially produced insulation materials are made of Polyurethane (PU) and Polystyrene (PS). In order for these to have an insulating effect, they must first be foamed. For this purpose, there are Pentanes on the one hand, and Fluorinated Olefins (HFOs) on the other. Both, but especially the Pentanes, have replaced the partially halogenated hydrocarbons (HCFC), which are particularly harmful to the environment. The alternatives to these two products are only suitable to a limited extent or are not yet available on a large scale.
Although chlorofluorocarbons (CFCs) and hydrochlorofluorocarbons (HCFCs) are no longer permitted in the EU under the Montreal Protocol, HFOs may still be used. In contrast to pentanes, they are not equally available worldwide because they have to be manufactured in a complex way, which only very few manufacturers are able to do. This effort is also reflected in the price. Pentanes and HFOs can be mixed to optimise costs and foam properties, especially energy efficiency.
The production of insulation materials with Pentanes
Pentanes have long been used as blowing agents in Polyurethane (PU) and Polyisocyanurate (PIR) formulations. They have a proven track record and now account for more than 50% of the global market share.
Advantages of Pentanes and Pentane Blends:
High performance
No measurable ozone depletion potential (ODP)
Low impact on global warming (GWP) compared to other blowing agents
Three different isomers can be found on the global market: n-Pentane, iso-Pentane and Cyclopentane. All three have physical differences and are therefore chosen for different applications in the field of insulation.
Thermal conductivity vs. dimensional stability of Polyurethane (PU) foams
Two points are very important when evaluating Polyurethane (PU) foams for insulation purposes:
Thermal conductivity
Dimensional stability
A low thermal conductivity means a good insulation effect. Dimensional stability depends on the cell structure and decreases with time in all foams with the result that the foam shrinks. However, this process progresses very slowly and the foams last for decades and are capable of insulating buildings reliably.
Cyclopentane offers excellent and durable insulation performance for PU and PIR foams
After foaming, Cyclopentane remains partly in the cells of the PU or PIR foam. As a so-called cell gas, it conducts heat less effectively than air and thus offers an extremely high and lasting insulating effect.
Pure Cyclopentane is mainly used in the household appliance industry. Here, a maximum insulating effect must be produced in a small space. Cyclopentane is therefore also often used for cold storage rooms, refrigerated warehouses and logistics, primarily as sandwich panels. These panels are given a solid structure from the outside, for example, by thin metal sheets.
n-Pentane and iso-Pentane for stable PU insulation panels
n-Pentane and iso-Pentane have a lower insulating effect than Cyclopentane. The advantage of these foams, however, is that they are more stable and the individual cells are finer and firmer. Hence, if a good but not superior insulating performance is desired, for example in common residential or office buildings, insulation boards made with n-Pentane or iso-Pentane as blowing agents are a good choice. However, in order to meet the increasingly stringent energy efficiency requirements, there is a trend towards using more Cyclopentane in insulation boards as well.
Properties of Expanded Polystyrene (PS)
Due to the chemical properties of Polystyrene foam, it is not suitable to use high-quality Cyclopentane as a blowing agent. This is because the Pentanes quickly diffuse out of the material and are replaced by air. Therefore, mainly n-Pentane and iso-Pentane are used for this purpose. Depending on the application, different mixtures are useful, usually with a high proportion of n-Pentane. Due to the lower insulating effect, insulation boards made of Styropor® are significantly thicker than those made of Polyurethane (PU). Conversely, both the raw materials Polystyrene and n-Pentane respectively iso-Pentane as well as the product itself are more cost-efficient.
What roles do Pentane blends play?
Of course, n-Pentane, iso-Pentane and Cyclopentane can be blended together in any combination to match the properties of the blowing agent and its contribution to insulation as required. This is common practice in the industry. Consult your supplier for more information.
This blog article could also be of interest to you:
Conclusion
Pentanes are increasingly in demand as blowing agents for the production of Polyurethane (PU) and Polystyrene (EPS, XPS) insulation materials. Their use has an advantage over fluorinated olefins (HFOs) from an ecological and economic point of view. Depending on the desired insulating effect and dimensional stability, different isomers - n-Pentane, iso-Pentane and Cyclopentane - can be used. Pentane blends also offer advantages to the insulation industry with their tailor-made formulation. Contact your manufacturer and ask if they produce all three types of Pentane such as Haltermann Carless - this way you not only get everything from a single source, but you can also get your Pentane blends in the right mixing ratio at the same time.
Did you know that we have researched the benefits of pentane blends for the PU and PIR industry? Read our blog article or feel free to download our study for free!