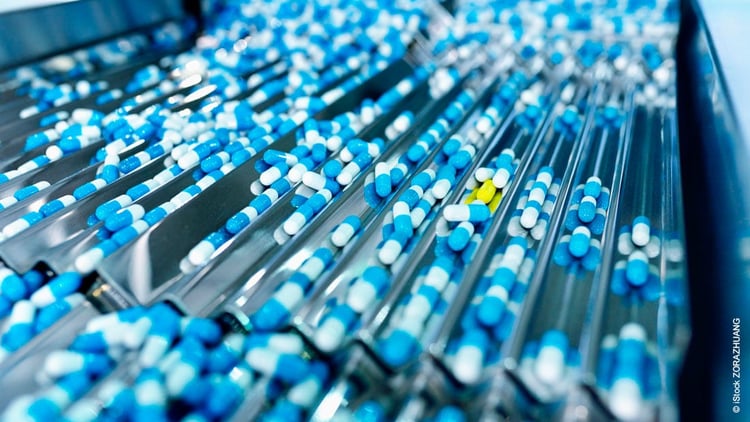 Reliable supply is a key factor in the selection of potential suppliers for the pharmaceutical industry. Quality is another criteria – especially when it comes to products with special properties, such as high-purity solvents. The expectations on the producer are high: continuous availability, ensuring relevant product properties and consistent quality. In this blog article we will outline which aspects are important when sourcing solvents for the pharmaceutical industry.
The most important requirements for solvents for the pharmaceutical industry
The production of active ingredients (AI) in the pharmaceutical industry is an area with special requirements. In comparison to others, the industry is not subject to strong fluctuations, as the demand for drugs is constantly high and immediate security of supply must be guaranteed. The ability to supply base products, such as solvents, is one of the most critical requirements. Suppliers of solvents should be able to ensure continuity of production and supply.
A supplier should be able to offer:
Worldwide distribution

Digital logistics modules such as Track & Trace systems
Flexible solutions for filling, packaging and logistics
High quality standards in the production of active pharmaceutical ingredients
Another essential parameter in the production of active pharmaceutical ingredients (APIs) is consistent quality, as production requires a very high degree of purity. Solvents play an important role in the production process of active pharmaceutical ingredients (APIs) and must meet the highest standards.
The solvents are used in research and development laboratories for classical analyses and syntheses, and are also necessary in the production process for workup, crystallization, washing of purified substances and extraction. High-performance hydrocarbon products are required to have a purity of up to 99.75 % and meet the highest requirements of the industry. The high purity in particular allows efficient and targeted control in synthesis steps. This is of fundamental importance to the pharmaceutical sector.
Impurities can severely disrupt the manufacturing process and, in the worst case, lead to plant downtime and production losses. This can be avoided with high-purity products such as paraffins of the best quality, with low water content and low evaporation residue. Trustworthy producers of solvents can ensure consistent quality in their own laboratories, which are accredited according to ISO/IEC17025.
Highest reliability through customised solutions
A further benefit is the range of application-specific solvents. The possibility of obtaining individually tailored specifications and mixtures shows a strong customer orientation of the manufacturer. For customers, this means the highest reliability and proven safety for their analysis requirements and production processes in both complex and individual applications.
Conclusion
Qualified manufacturers of specialty chemicals, in particular high-purity hydrocarbons, must meet the high standards of the pharmaceutical industry and at the same time fulfill individual product and supply chain requirements. In the best case, they are strong partners with many years of expertise in application-oriented solvents. Check if your supplier offers the following services:
Supply capability through an independent supplier network
Flexibility
Rapid implementation of customer requirements
Production safety
Quality assurance
Certifications
Consistent high quality
Find out what benefits Haltermann Carless high-purity solvents can offer to the pharmaceutical industry.