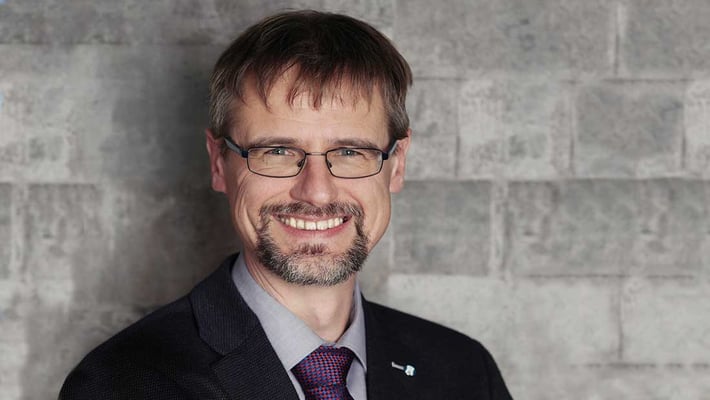 Haltermann Carless' production site in Speyer has a long history and a promising future. This is due to its strategically favourable location in the heart of Europe, a strong product portfolio, permanent investments in modern technologies and committed employees. The manufacturing plant, which has been in operation since July 1965, has constantly advanced and embraced future trends. At the time of its foundation, modern technologies such as valve bottoms or air-cooled condensation were used and a biological wastewater treatment plant was put into operation. Now the production site is again taking important steps towards the future: for more sustainability and clear customer added value.
Good time for an interview with the site manager, Dr. Henning Wartig, about the past and future of the Speyer site, difficult times and the great perspectives, innovation and motivation.
Dr. Wartig, you have been Site Manager for Haltermann Carless in Speyer since September 2019. What do you consider special about the Speyer plant?
Wartig: The site has a long tradition and has always remained modern. You can also see this in our workforce - a great highly qualified team made up of many experienced colleagues and young creative employees. We are just as diverse in our portfolio: We offer our customers a wide range of high-quality products, for example high-purity hydrocarbons for the pharmaceutical industry or pentanes, which ensure excellent insulation of buildings when used in polyurethane foams, for example. We also produce pure, technical hydrocarbons, printing ink distillates and components for test fuels at the site. The broad range of different industrial customers value our "Made in Germany" quality.
What advantages does the location bring to your customers?
Wartig: With our plant in Speyer, we are strategically located in the heart of Europe, directly at the Rhine river and close to Frankfurt Airport. We have our own jetty at the plant grounds as well as our own loading and unloading stations for rail tank cars and a modern loading and mixing station for tank cars. This is a great advantage in terms of logistics - both with regard to the delivery of our products to our customers all over the world and the delivery of raw materials. After all, in addition to high product quality, we are committed to high delivery reliability - even if this is a challenge for our supply chain at the moment.
As a strategically important production site, we have invested and continue to invest in the plant in order to drive further developments and implement trends. This pays off and is the ideal position to continue to grow, to meet the demands of the market and at the same time to secure jobs in this region.
How would you describe your time at Haltermann Carless so far?
Wartig: It has been a turbulent and challenging time. When I started here in September 2019, the Corona pandemic was just around the corner and many important decisions had to be made quickly. Fortunately, we were able to continue producing throughout without any major restrictions. This was partly due to the company's strategy of multi-sourcing raw materials, and partly due to the staff on site who, as a team, did a great job during this special time. Working together to find solutions is a daily source of motivation for me. Because parallel to the challenges of the last few months and our existing production, we are also tackling a mammoth project here: the construction of our new hydrogenation plant.
»Find out more about the new hydrogenation plant here!
What can your customers expect from the new hydrogenation plant?
Wartig: The new hydrogenation plant is one of the biggest investments of our company in recent years. It enables us to produce a product range with even higher purity and extremely low aromatic content using the latest technology. This is especially important for our middle distillate customers. We are also able to significantly increase capacities for our pentanes. The market is really calling for it; for months we have been experiencing an extreme shortage on the world market. All in all, with the new hydrogenation plant, we offer our customers high product qualities and great security of supply.
Moreover, we are implementing our sustainability strategy not only in the products, but also in the production, which is now even more environmentally friendly. Basically, the production process of the new hydrogenation plant does not produce any waste, waste water or emissions. The noise emissions caused are also very low.
Sustainability is an important pillar of your corporate culture, in addition to customer focus and future orientation. How does this become visible at the Speyer site?
Wartig: On the one hand, through our efforts to establish more environmentally friendly production processes or to use electricity from renewable energies such as solar, wind and water. On the other hand, we are working together with our customers on solutions to produce more efficient and sustainable products that are capable of making a significant contribution to reducing CO2 emissions in the final application.
However, it is particularly important to look to the future and to bundle our innovative strength into concrete, sustainable projects. Our new hydrogenation plant is a visible example of this. Yet we don't want to rest on our laurels; the next sustainable project at the site is already in preparation: As the first commercial manufacturer in Germany, we aspire to produce sustainable aviation fuels (SAF), modern biofuels and renewable hydrocarbons here in Speyer from late 2024.
Read more about SAF in this blog article:
With all the tasks, responsibilities and future plans at the site, you also need to relax. What do you do to recharge your batteries?
Wartig: Sustainability is also a topic that drives me in my private life. I am an enthusiastic sailor and enjoy hiking and canoeing. For me, as for many people, nature is a great source of strength, which must therefore be protected and preserved. My daily bike ride to work is, among other things, my small contribution to this ... and also a great start to the day.
Read also:
Do you have any questions about our the Speyer site, our services or supply chain? Then please feel free to contact us!