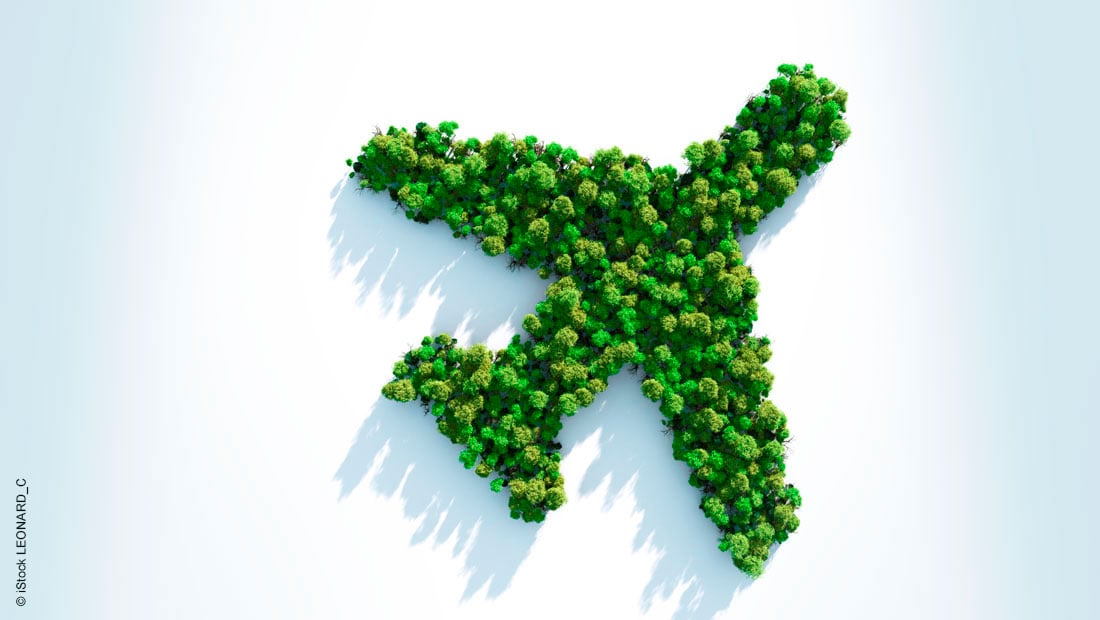 The transportation sector is changing - and what has long been an essential part of research and development in the automotive sector is now increasingly finding its way into aviation: sustainable solutions to reduce CO2 emissions. Alternative fuels, so-called Sustainable Aviation Fuels (SAF), play an important role in this context and are a significant driver for GHG emission reduction in aviation. Read here how tangible this forward-looking topic already is and the pioneering role that Haltermann Carless is playing.
Significant investments towards sustainable flying
Aviation is one of the fastest-growing sources of greenhouse gas emissions. The industry represented approximately 3,01 % of global annual carbon emissions in 2018 and is expected to grow more than threefold by 2045 compared to 2015 (Environmental and Energy Study Institute, EESI). To reduce overall Greenhouse Gas Emissions (GHG) and fight climate change, demanding targets have been set for example by the European Commission with the so-called "Green Deal". The aviation industry itself is also committed to high sustainability goals, which are defined in the IATA CO2 reduction strategy "Way Point 2050". Besides efforts from the industry and governments, more and more air passengers are ready to pay for low-emission flights and would like to see a change in strategy in this sector as well. All in all, a clear mandate for the aviation industry.
For some time, the aviation industry has intensified their approach for more climate-friendliness in air transport. These include investments in new technologies, kerosene-saving take-off and landing or CO2-neutral airports. The most important approach though is to implement Sustainable Aviation Fuels (SAF) as they represent the greatest potential for reducing CO2 emissions in a timely manner.
Read also:
Interview with Hamburg Site Manager: Fuels for sustainable mobility
Sustainable Aviation Fuels (SAF) offer extensive advantages
The aviation industry will need to rely on fuels for the foreseeable future as alternatives such as hydrogen and electric planes are currently not an option for long-distance flights. Therefore, Sustainable Aviation Fuels (SAF) are the ideal solution offering significant benefits:
Deliver up to 80 % reduction of GHG emissions across product lifecycle compared to fossil fuels.
Designed as so-called drop-in fuels, they are compatible with conventional fuels i.e. blendable and interchangeable.
Meet the same high quality standards and comply with all safety requirements.
Do not require any modifications to the aircraft, turbines or fuelling when in use.
Airlines, airport operators and the supplying oil, energy and chemical industries see the future in the development and implementation of Sustainable Aviation Fuels (SAF). But how concrete are the concepts and projects currently?
Haltermann Carless is targeting to become the first large-scale producer of SAF in Germany
Development to commercial scale and as well as pilot concepts already exist with various technologies, such as Hydrotreated Vegetable Oils (HVO), Power-to-Liquid (PTL), Fischer-Tropsch (FT) or Alcohol-to-Jet (ATJ). Innovative chemical companies are already one step ahead. They have firmly anchored sustainability in their corporate culture, are increasingly focusing on a green portfolio and invest accordingly.
Haltermann Carless has long been committed to products based on renewable hydrocarbons, such as biofuels. Now we want to be the first commercial manufacturer in Germany to produce large-scale Sustainable Aviation Fuels (SAF). We are investing significant efforts in the engineering and later construction of a production plant for renewable hydrocarbons at our Speyer (Germany) production site for this purpose. By the end of 2024, we plan to be able to supply around 60,000 tonnes of Sustainable Aviation Fuels (SAF), special fuels and renewable hydrocarbons annually.
Haltermann Carless selected the Alcohol-to-Jet (ATJ) process as it offers multiple benefits:
ATJ is a demonstrated and future-proof SAF technology
Allows feedstock flexibility (1G, 2G, waste feedstock acc. to EU RED II Annex IX)
Simple drop-in fuel solution for existing aircraft utilising airport infrastructure
Immediate and significant carbon reduction with demonstrated/certified Life Cycle Analysis (LCA)
Alcohol-to-Jet (ATJ) process:
Haltermann Carless has the ideal prerequisites for the production of Sustainable Aviation Fuels (SAF)
Haltermann Carless has always seen itself at the cutting edge of development and has been living a pioneering role for over 160 years. We are now continuing to break new ground with modern technologies in conjunction with a high level of customer orientation in the field of Sustainable Aviation Fuels (SAF).
Haltermann Carless has the ideal prerequisites and the corresponding know-how to explore the SAF market:
Many years of experience and expertise in the development and production of biofuels and renewable hydrocarbons.
Utilisation of our existing infrastructure at the Speyer production site (hydrogenation, distillation, blending & tankage), which enables short time to market.
Speyer is a strategically advantageous production location: in the geographical centre of Europe, directly on the Rhine river and close to Frankfurt airport - customers in Europe benefit from a speedy supply
Production site offers low carbon logistics – with barge & rail connections to major European airports, an experienced workforce with proven project management experience and is audited with highest QC and industry certification.
Set-up to provide certified SAF products through the use of residual and waste materials in accordance with the European Renewable Energy Directive (EU RED II Annex IX)
Click here to learn more about our ambitious plans for SAF production!
Conclusion
Sustainable Aviation Fuels (SAF) will play a key role in the ability of the aviation industry to meet 2050 carbon goals (IATA "Way Point 2050" and European "Green Deal"). As the first commercial producer of SAF in Germany, Haltermann Carless is ready to accelerate next generation solutions to reduce impact of global air traffic and enable climate-responsible flying. For our company, environmental protection and GHG reduction is part of our corporate strategy, which we implement with competence, modern equipment, new technologies and investments.