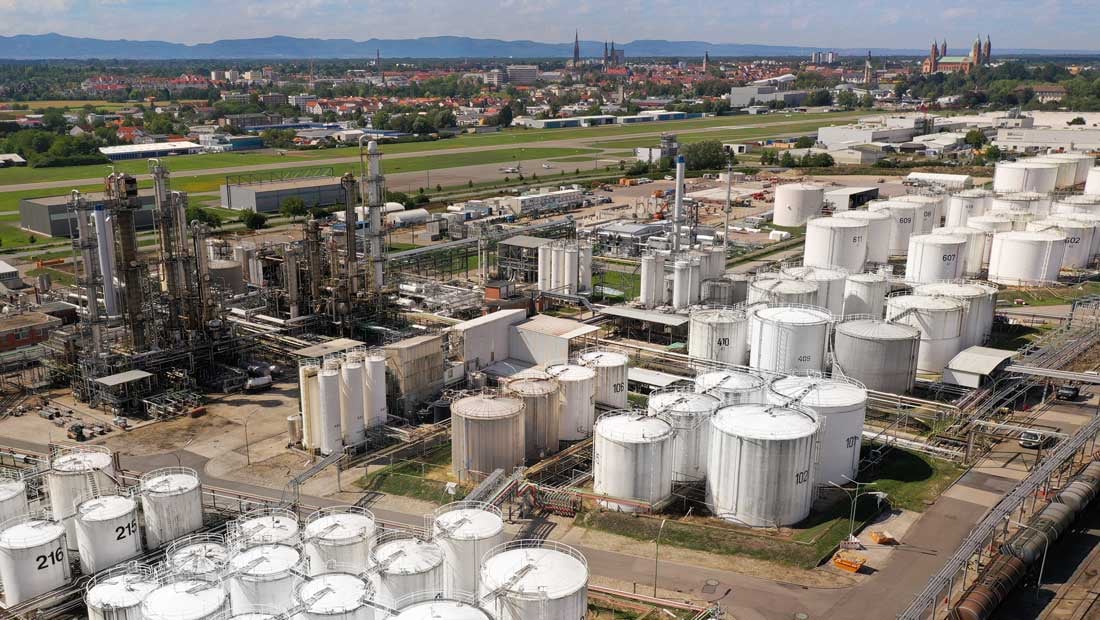 Cyclopentane is an indispensable raw material for insulation materials in the construction industry. As a blowing agent in Polyurethane insulation boards, it is responsible for the insulation performance and contributes directly to the saving of heating costs and to the reduction of CO2 emissions. Of all the Pentanes, Cyclopentane has a particularly high insulating performance.
The Haltermann Carless site in Speyer produces Cyclopentane for the construction industry as well as for other branches and faces a growing demand on the global market. After all, energy efficiency is an important aspect nowadays. In particular since the EU's Green Deal regulations came into force, sustainability has become a key issue in the construction industry.
Dr Thorsten Ackmann is head of production at the Haltermann Carless plant in Speyer and regards the site as ideally equipped for the future in the Pentane sector. In the following interview, you can find out which factors are decisive for him personally and how this is related to Haltermann Carless' strategic orientation.
"With our Cyclopentane customers we are looking at a bright future at the Speyer site."
Dr Ackmann, Haltermann Carless is an expert in high-quality hydrocarbon products and solvents and plays an important role for the insulation industry, or more precisely for the construction industry. Why?
Ackmann: The demand for insulation materials has been growing steadily in recent years. Especially in the construction industry and in the insulation of old buildings, energy efficiency plays a major role. There are three reasons for this: Firstly, the topic of sustainability is much more present in our actions, and in addition, good insulation of buildings means very concrete cost savings and also a reduction in CO2. Secondly, there are clear regulations with the introduction of the European Green Deal and the "Fit for 55" programme.
Our Pentanes are a key to success, because as blowing agents in insulation materials they are directly responsible for the insulation performance. In addition, due to a low GWP (Global Warming Potential) and zero ozone depletion potential, they have a very good eco-balance and are an environmentally friendly alternative to fluorinated hydrocarbons. As the only European producer of all Pentane isomers and soon to be the largest Cyclopentane producer worldwide, we are an important supplier to the insulation industry in the construction sector.
Please explain to us why Cyclopentane plays such an important role?
Ackmann: Haltermann Carless produces all three Pentane isomers: n-Pentane, iso-Pentane and Cyclopentane. Cyclopentane is the highest-quality blowing agent of the three and is used for the production of polyurethane (PU) foams. The Cyclopentane foams the PU, remains as cell gas in the insulation material and thus has a particularly strong insulating effect. Cyclopentane is the first choice for the insulation industry, especially in places where high insulation performance is required but only a thin insulating layer can be used.
What is the significance of the Speyer site in this context?
Ackmann: Haltermann Carless Speyer site is the heart of our Pentane production. From here we supply our customers in the insulation industry and, of course, other industrial sectors worldwide. The site is strategically located in the heart of Europe, close to the Rhine river and with the best logistics infrastructure, such as an own shipping pier and its own loading stations for tank wagons and tank trucks. We also invest regularly in this location.
In addition to investments in product and production-related projects, the clear strategic orientation for more sustainability is being driven forward at all levels of our company. Here on site, this means the purchase of green electricity as of this year. Our new hydrogenation plant is a very special project among all our investments and combines both aspects.
Can you explain that in more detail?
Ackmann: With the new hydrogenation plant, we are taking our customer focus into account: it enables a significant capacity expansion in the Cyclopentane sector, which is urgently needed on the world market. Since the plant is also used for the production of middle distillates, we can offer customers from this sector products with improved purity and lower aromatic content. In addition, we are implementing our clear strategic focus on environmental and climate protection, because the modern technology enables us to produce in an even more environmentally friendly way: There is no waste, waste water or emissions in the production process.
Are there other aspects to be prepared for the future in the Pentane market besides investments?
Ackmann: Investments are the crucial factor for the future of a facility. Our customers, the insulation manufacturers for the construction industry, benefit in several ways from the new hydrogenation plant. Among other things, through the Cyclopentane capacity expansion, which offers our customers improved security of supply. The possibility of using a greater variety of raw materials offers more flexibility in production and puts us on a broader base.
For me, however, it is the extra services that our customers don't see that create enormous added value. A good example of this is the commitment of our qualified employees at all levels. I would like to highlight our team's work pumping Pentanes and taking samples during the hot summer months. Pentanes are very volatile at higher temperatures. By shifting logistics to the night and early morning hours, we can reliably supply our customers throughout.
A good team is enormously important in everyday work. What else makes up your daily work?
Ackmann: I have been production manager at the Speyer site since autumn 2020 – during the Corona pandemic. Without the staff on site, with their expertise, discipline and enormous flexibility, we certainly wouldn't have come through the crisis so well. That certainly made my job a lot easier. The daily contact with a large number of colleagues from different areas makes my work as production manager exciting. I have regular consultations with the production staff, but also with production planning, logistics, the administrative units, the plant fire brigade and of course the construction team for the new hydrogenation plant.
That sounds like a great variety of tasks and responsibilities. How do you find a balance?
Ackmann: In my leisure time, being with my family is most important to me... and travelling, even if that is only possible to a limited extent at the moment. We like to go to Scandinavia and Italy. That is where I recharge my batteries and look forward to the interesting tasks that lie ahead of us. Because it is certain that this location still has a lot to offer in the future!