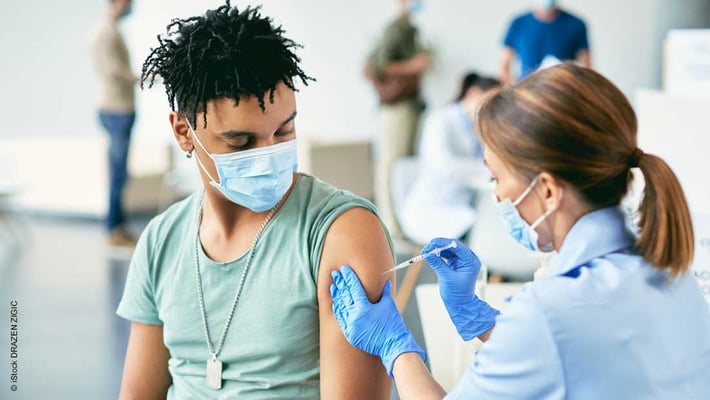 Pharmaceuticals are an indispensable part of our current understanding of health care. With the outbreak of the SARS-CoV-2 coronavirus pandemic, the importance of pharmaceuticals and especially vaccines has become more evident. In addition to the national regulatory authorities or the European Medicines Agency (EMA), which check for efficacy and safety, the pharmaceutical companies are the most important guarantors of the highest quality. High purity of ingredients and substances, such as elementary solvents, is of utmost importance. Haltermann Carless offers this quality for pharmaceutical applications as well as for Covid-19 / Corona vaccines and drugs. Find out more here.
We can no longer imagine a healthy life without pharmaceuticals - society relies on the achievements of medical care and effective drugs. Covid-19, a disease caused by the SARS-CoV-2 coronavirus, has once again highlighted the importance and shown that vaccines are effective and life-saving, but also make a crucial contribution to a functioning everyday life.
Paraffinic solvents: key building blocks in Corona vaccine production
Vaccines have highly complex structures with sensitive molecules - their efficacy and safety are based, among other things, on pure ingredients. In pharmaceutical production, therefore, the highest standards of hygiene, quality assurance and raw materials are necessary to avoid contamination and thus production downtimes.
Solvents used in important extraction steps must therefore convince above all with qualitative properties. But the physical properties are also crucial:
High purities of over 95 % are important.
n-Paraffins and iso-paraffins are chemically inert. They do not take part in the reaction process.
Paraffins are resistant to oxidation and have a long storage life.
When it comes to disposal, paraffinic solvents are unproblematic.
Which solvents are used in the pharmaceutical industry?
Aliphatic and alicyclic (naphthenic) hydrocarbons with a chain length in the range of C5 to C16 can be used in the pharmaceutical industry. Of particular interest are the C5 to C8 molecules, especially the C7 molecule n-heptane.
Haltermann Carless offers high-purity hydrocarbons for complex active ingredients
High-performance solvents for the pharmaceutical industry are crucial auxiliary materials in the production of active ingredients for various drugs. Pharmaceutical companies have long relied on the high purities, consistently high quality and comprehensive services.
Haltermann Carless supports the pharmaceutical industry also in the production of Covid-19 / corona vaccine and drug production with its high-purity hydrocarbons.
Benefits:
Haltermann Carless offers high purities of 95 %, 99 % or even greater than 99.75 %.
More than 50 years of experience and expertise in the production of high purity hydrocarbons for the pharmaceutical industry.
We offer excellent product quality, backed by our own laboratories (accredited to ISO/IEC17025) with extensive testing and analysis facilities.
Our understanding as a solution provider enables customised specifications and blends.
We are just as flexible when it comes to packaging and transport. With their infrastructure, our plants in Speyer and Hamburg offer access to all common transport routes ex works.
This blog article could also be of interest to you:
Get a comprehensive overview:
Or directly for your industry:
Conclusion
Pharmaceuticals are supporting pillars in health care and treatment. Haltermann Carless makes an important contribution to this with its high-purity paraffinic hydrocarbons - with high purities and qualities, as well as customised specifications, we support manufacturers of sensitive Covid-19 / Corona vaccines and medicines with high-performance solvents.
Do you have any questions? Then simply get in touch with us: