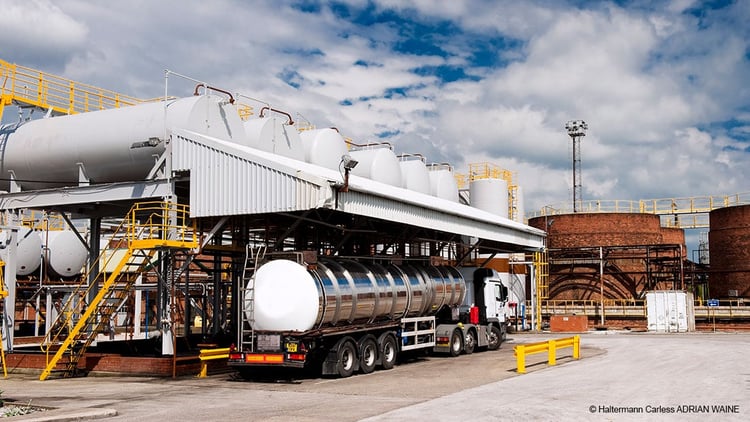 Queueing times during loading and unloading at the loading stations are a frequent problem for many manufacturing companies but also for logistics companies. Planning and punctuality play a decisive role in transport and delivery. In the chemical industry, too, information deficits at loading companies and forwarders are often the main reason for long waiting times on site. Read more about Time Slot Management and how it can help to improve loading processes and thus contribute to the efficiency of the supply chain, also in chemical logistics.
The problem is well known: It is unclear when trucks will arrive for loading or unloading. At the same time, freight forwarders do not have any information about the times at which they can expect to be dispatched quickly. Traffic jams or idle times at loading stations are often the result and generate unnecessary time loss and costs. Many resources thus remain unused and lead to irregular capacity utilisation. The best possible coordination of these processes is necessary to ensure punctual supply of subsequent production and timely delivery of the finished products to end customers.
Time Slot Management offers a great solution and more transparency in logistic processes. By booking time slots electronically at the loading terminals, customers and partners can coordinate and control their loading perfectly by using a common system. This enables significant process optimisation at the loading points and leads to more consistent capacity utilisation. This is also the result of a study by the Federal Ministry of Transport in Germany.
Advantages of Time Slot Management
Especially in chemical logistics, a fast and cost-effective delivery performance is of great interest. This is because the subsequent customer is often a manufacturer itself, for example in the pharmaceutical or automotive industry, and cannot afford production delays or worse downtime, possibly resulting in delays to its end customers. This is where a transparent, timely and cost-efficient supply chain is required.
Digitalisation plays an important role in solving these challenges, such as tracking, which helps to precisely trace delivery routes, or Time Slot Booking, which enables precise truck coordination via web-based application platforms.
Time Slot Management offers multiple simplifications and advantages for chemical logistics if it is strategically planned, well implemented and also consistently applied:
Reduction of waiting times for trucks
Professional process planning
Cost savings
Optimal utilisation of incoming and outgoing goods
Increase in loading performance
Reduction of storage capacity
Improved traffic safety on the company premises through fewer traffic jams
Best possible personnel utilisation and planning
Prompt exchange of information between the partners
Improving environmental protection and sustainability by reducing the carbon footprint
Take care that your partners are customer-oriented and flexible, because well thought-out management also takes changes during the delivery process into account. For example, waiting vehicles should be able to be loaded earlier than planned and delayed trucks should be given an adjusted time window for loading.
Time Slot Management at Haltermann Carless
At Haltermann Carless customer focus is a central component of the corporate culture. This is accompanied by partnership-based and timely communication and the best possible fulfilment of customer needs. As early as 2014, Haltermann Carless introduced a Time Window Management system to optimise the loading process for its suppliers, forwarders and customers, thus ensuring greater transparency. Since then, we have benefited from satisfied logistics partners. In 2019, the company switched to a web-based Time Slot Booking tool, which allows freight forwarders to book their time slots themselves.
Advantages such as cost savings, time savings and planning reliability can be clearly demonstrated. With the introduction of Time Slot Management system, the costs for loading times at the Haltermann Carless production site in Speyer, Germany, has been be reduced by 40%. On average, the trucks are at the plant for a maximum of 2 to 2.5 hours, in the past it was twice as long due to waiting times. For the departments affected by loading and unloading, such as tank farm, laboratory, logistics/dispatching, Time Slot Booking means a more balanced distribution of the workload. This makes work processes more predictable. Loading point restrictions, for example due to planned maintenance work or training activities, can now be optimally planned without any noticeable effects on our loading station. This also enables our partners for better planning while achieving time savings.
You can read more about our strenghts in supply chain management here!
Conclusion
Improvement and digitalisation of logistics processes, such as Time Slot Booking, can significantly contribute to cost savings while providing additional benefits, such as balanced workload, more transparency or better personnel planning - for all partners along the supply chain.
Delivery promise: How Haltermann Carless distributes its hydrocarbon products
Stay informed!
Just subscribe to our blog for industry, life science, energy and mobility. We inform you about high-value hydrocarbon products and solvents as well as current trends in chemical purchasing, supply chain management, research & development and sustainability.