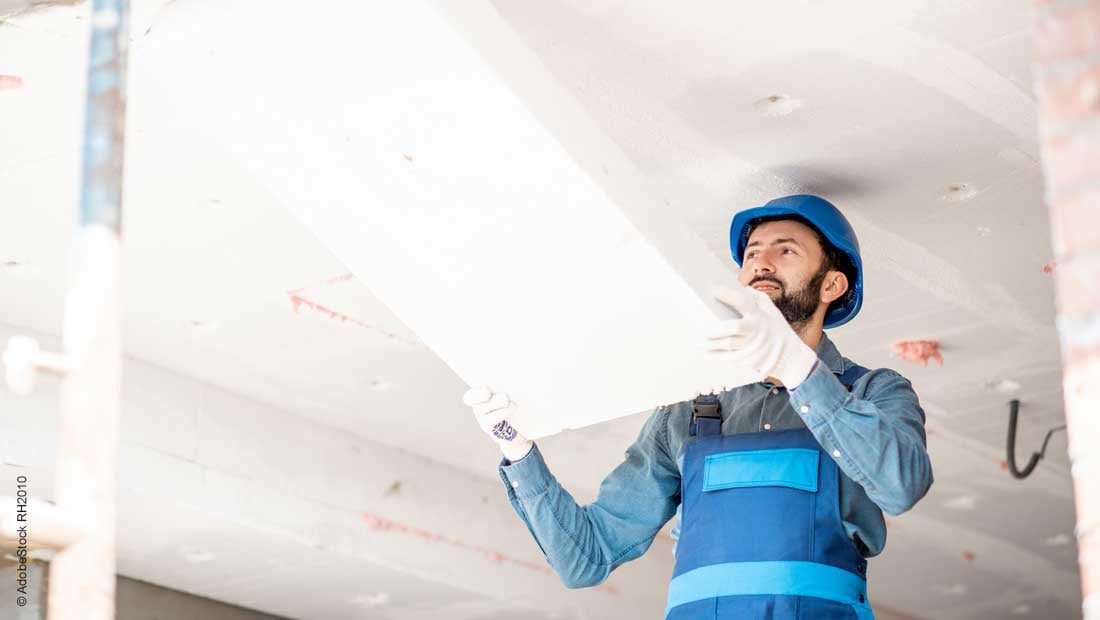 Building insulation is far better than its reputation. In addition to energy-saving measures and a new, efficient heating system, façade, ceiling and roof insulation is an important component in saving energy in buildings and thus in reducing greenhouse gases. Rigid polystyrene foam makes an important contribution to this. Read more about the importance of building insulation and why Pentanes from Haltermann Carless play a crucial role in this.
The importance of building insulation is beyond question for most people. And yet the measure and the enormous benefit in reducing a building's CO2 emissions are often not given top priority. Too expensive, too complex, too long amortisation periods!
Yet the European Green Deal has declared the thermal insulation of existing buildings in Europe to be an important goal with great savings potential. And a recent study by the German Institute for Energy and Environmental Research Heidelberg (ifeu) together with the non-profit association Natureplus also shows the often underestimated importance of insulated houses. The result of the study shows the significant reduction of the CO2 footprint of insulated houses.
How rigid polystyrene foam
as a thermal insulation material
contributes to climate protection
There are many types of thermal insulation. Which one a house owner or builder chooses depends on many factors. However, price, performance and efficiency play a role in every case. Expanded polystyrene (EPS) is convincing in all areas.
Known under the brand name Styropor® as polystyrene insulation boards, it meets the highest demands in terms of processability, multi-purpose use, moisture resistance and insulation performance at a comparatively favourable cost.
Polystyrene owes its good insulating performance, which leads to energy savings and thus to reduced CO2 emissions, to an important raw material: the blowing agent Pentane from Haltermann Carless. Iso-Pentane or n-Pentane, or typically a mixture of both, are used. They ensure the foaming in the production of polystyrene and thus enable an ideal insulating property.
Further information on the benefits of Pentane blends can be found in our recently conducted study:
Haltermann Carless' Pentanes contribute to greater sustainability:
Zero Ozone Depletion Potential (ODP) according to the Montreal Protocol
Low Global Warming Potential (GWP of 25)
Established, environmentally sound alternative to CFCs, which are hazardous to the environment and nowadays largely banned
Click to learn more about -> Pentanes for insulation materials in the building industry.
Excursus: What role do Haltermann Carless' Pentanes play in the production of rigid polystyrene foam sheets?
Rigid polystyrene foams are widely known for insulation in house construction or for insulating facades. The white sheets are very light and have a very good insulating performance thanks to the blowing agent Pentane used.
Polystyrene is obtained by polymerising styrene. After the styrene has completely polymerised and cooled down, the beads are cleaned, dried and sorted by size. They are then heated over steam and pre-foamed. This softens the polystyrene and the Pentane evaporates slightly, but not completely. The small inflated beads contain air chambers, which is of great importance for the insulation performance.
Insulation manufacturers further process the beads. With the help of a hot steam treatment in a heated mould, the pre-expanded beads soften and begin to stick together. The material is expanded to its final size by the evaporation of the Pentane. Pentane evaporates completely and expands the material to its final size. The cooled blocks can now be cut into polystyrene sheets and are used in a variety of applications, including building insulation.
Haltermann Carless Pentanes - high purity, all mixing ratios and mass balanced
Haltermann Carless is the only European manufacturer to produce all three Pentane isomers and offers qualities with at least 95 % purity. The hydrogenation plant at the German Speyer production site enables both new product types, such as the ISCC PLUS mass-balanced Pentane with reduced CO2 footprint, and a significant increase in Pentane production capacity. Customers value Haltermann Carless, now the largest cyclopentane producer, for its high product qualities.
Insulation manufacturers are particularly convinced by the exceptional 360° services, which focuses on tailor-made solutions for customers. Pentane blends can be produced in all blending ratios. Added to this are flexible supply options and a comprehensive customer service.
Read this blog article to find answers to questions we are often receive from customers and partners in the insulation industry:
Conclusion
Thermal insulation of buildings is a

vital component in achieving the European climate protection goals

. Rigid polystyrene foam is a convincing choice because of its comparatively affordable purchase costs, flexible applicability and good insulating performance.

Pentanes from Haltermann Carless

, such as n-Pentane or iso-Pentane or Pentane blends, are essential as blowing agents in the production of rigid polystyrene foam and thus enable a

high-quality thermal insulation material for building insulation

.