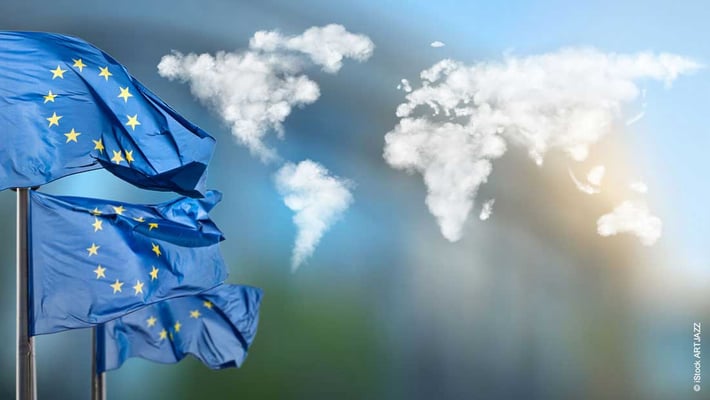 Sustainabile Aviation Fuels have gained considerable momentum in the aviation industry in recent times, due to their potential as a drop-in replacement for conventional fossil aviation fuels. Interest is also supported by the lack of sustainable alternatives with hydrogen or electric powered aircraft deemed unfeasbile and not financially viable in the short term. The European Union have underlined their focus on Sustainable Aviation Fuel (SAF) through the Green Deal and underpinned this with clear numbers and mandates in the ReFuelEU Aviation draft regulations. What, though, exactly does the draft regulation mean and what impact could it have on the SAF market in the coming years? Find out more here.
Sustainable Aviation Fuel – the most important driver of CO2 savings in aviation
The European Green Deal defined sustainable aviation kerosene as a key factor in reduced emission aviation. After all, compared with other comprehensive measures such as climate-friendly take-offs and landings, route changes or lighter aircraft, Sustainable Aviation Fuel (SAF) achieves the greatest reduction in CO2 emissions in the aviation industry (IATA – Fly Net Zero).
In the upgraded initiative Fit for 55, the requirement to reduce emissions by 55% by 2030 (compared to 1990 levels) is set. The ReFuelEU Aviation forms a part of the Fit for 55 legislation and within this targets are specified for the aviation industry. Sustainable Aviation Fuel is promoted and its share in conventional fuels increased.
The draft regulation supports the defossilisation measures taken in aviation in other initiatives, such as the Renewable Energies Directive or the EU Emissions Trading Scheme.
Read also:
SAF market sees clear mandate to expand production
With the planned ReFuelEU Aviation Regulation draft, producers of sustainable aviation fuel see a strengthening and clear direction for a regulated higher demand. The concrete quota regulation to be achieved illustrates this. It includes all European airports and their departing aircraft.

The requirement defines the following shares of sustainable aviation fuel:

Total shares in the fuel mix
| | | | | | | |
| --- | --- | --- | --- | --- | --- | --- |
| | 2025 | 2030 | 2035 | 2040 | 2045 | 2050 |
| % of SAF used in air transport: | 2 % | 5 % | 20 % | 32 % | 38 % | 63 % |
| Of which: synthetic fuels (or e-fuels): | - | 0,7 % | 5 % | 8 % | 11 % | 38 % |
(vgl. Fit für 55 und ReFuelEU Aviation | EASA (europa.eu)
What does it actually mean?
… SAF?
Sustainable Aviation Fuels are a clean substitute to fossil jet fuels. Rather than being refined from petroleum, SAF is produced from sustainable feedstocks such as agricultural residues, used cooking oil or non-fossil CO2.
... biofuels?
Biofuels are produced from plants grown specifically for this purpose, for example rapeseed, corn, grain, sugar beet, rapeseed, palm or soya oil. This 1st generation fuel can also be used as food or animal feed. For 2nd generation biofuels, plants or parts of plants, such as cellulose, are used that are not edible. Furthermore, sustainable aviation fuel SAF can be produced from residual materials such as food waste and used cooking oil using various processes.
... synthetic fuels or e-fuels?
So-called electric fuels belong to the category of synthetic fuels and are produced from electricity and CO2. It is more climate-friendly if the production process is designed sustainably and renewable electricity from hydro, solar and wind energy is used. The power-to-liquid (PtL) process promises great success here.
Since air transport will continue to rely on drop-in fuels in the long term, it must be ensured that the fuel manufacturing produces correspondingly low greenhouse gas (GHG) emissions. This can be addressed with both synthetic electric fuel and biofuels.
Conclusion:
The upcoming ReFuelEU Aviation Regulation will significantly strengthen the SAF market. Manufacturers such as Haltermann Carless, who intends to be the first commercial producer in Germany, continue to invest in new technologies and plants and see their sustainable approach confirmed. Clear target formulations are therefore not only a mandate for SAF manufacturers, but above all a clear perspective for sustainable air travel and more climate protection in the aviation industry.
Read more:
Just this much in advance: Haltermann Carless intends to produce 60,000 tonnes of modern biofuels, sustainable aviation fuels and renewable hydrocarbons from 2nd generation sugar-containing agricultural residues annually in Speyer from 2024 onwards. Click here to learn more about our ambitious plans for SAF production.