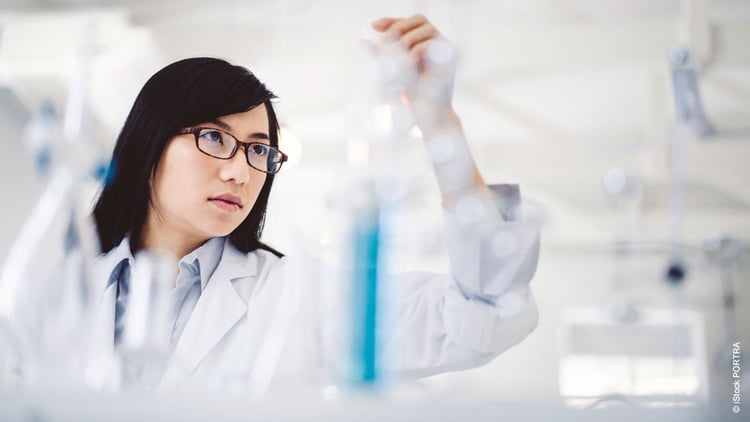 Solvents play a major role in the pharmaceutical industry and are a key component in the production of active ingredients for drugs. Potential impurities are therefore a major problem and can lead to production downtime. Buyers in the pharmaceutical industry rely on high-purity solvents and observe the following points.
Where are solvents used in the pharmaceutical industry?
Solvents, such as n-heptane, are required in research and development laboratories for analyses, but more often, they are used in the production process of active pharmaceutical ingredients (API). They play a big role in the workup, crystallization, extraction and washing of purified APIs. The latest ultra-high performance HPLC systems, which achieve significant improvements in analysis speed, reproducibility, resolution and sensitivity, also require very high purity solvents.
What is the risk of contamination and how can it be avoided?
Contamination must be avoided at all costs, as it can severely disrupt, if not endanger the production process. Production and procurement specialists in the pharmaceutical industry therefore pay attention to high-purity hydrocarbon products, which have a purity of up to 99.75 % and a consistent high quality. The high purity in particular allows efficient and targeted control of subsequent synthesis steps. This is of fundamental importance in the pharmaceutical sector.
But how can this high quality be guaranteed? Where do impurities arise and how can the manufacturer avoid them? The following three points will help you to ensure that the right criteria are applied by the supplier of high-purity paraffins:
1. Reliable production and quality control
2.
Certified laboratories
with specific know-how
3.
Professional
transport and storage
1. Production and Quality Control
Contamination can already occur during the production process of high-purity hydrocarbons. Special process technologies and permanent quality control are required here. Above all, solvent producers with high standards rely on dedicated plants for production. In this way, the high-purity hydrocarbons can be processed separately to avoid contamination.
"Made in Germany" is also a promise of quality and guarantees compliance with the strict legal requirements in Germany.
In addition to careful inspection of the raw materials, in-process controls and final inspections ensure that the solvents meet their specifications. Test and analysis laboratories connected to the production ensure a consistently high quality and can intervene immediately with regard to possible contamination.
At the end of the production line, the last process step is filling. All producers must decant and store their high-purity hydrocarbons safely and cleanly, as special care is required with regard to contamination. It is necessary to meet the requirements of very sensitive products as well as to comply with the legal requirements with regard to filling accuracy.
2. Laboratory and Know-How
Laboratories are the core elements of quality assurance and should be certified according to ISO 9001 and ISO 14001. They should be well equipped in order to be able to perform special analyses for the pharmaceutical industry. Trustworthy producers of solvents and paraffins can ensure consistently high quality in their own laboratories, which are accredited according to ISO/IEC 17025. The application of the dual control principle, where a second operator re-checks all results, shows the special care taken for quality assurance. Additional services for tailor-made specifications, such as measurements of individual parameters, complete the range of services offered by professional manufacturers of high-purity hydrocarbons.
3. Expertise in Transport and Storage
As described above, contamination can occur during the filling process, but also through incorrect packaging and storage. Reliable manufacturers for the pharmaceutical industry offer not only high-quality products but also can demonstrate many years of expertise in packaging, finding transport alternatives and reliable warehousing. Buyers from the pharmaceutical industry should ask for customer-specific transport options such as rail-cars, tank trucks, iso-tanks or drums. To avoid peroxides, qualified and service-oriented producers also enable delivery in stainless steel containers. Here, detailed personal advice is key.

Conclusion
The production of active pharmaceutical ingredients (API) in the pharmaceutical industry requires high-purity solvents. Furthermore, consistently high quality standards are required to exclude contamination at the supplier. Ask the manufacturer for advice, specifically about dedicated production plants to avoid contamination, strict quality and process control, certified laboratory standards and flexible logistics services. This may help to significantly reduce the risk of potential production downtime due to contaminated solvents.
You can learn more about the quality assurance of high-purity hydrocarbons and other products at Haltermann Carless in this interview:
»How Haltermann Carless laboratories test the quality of high-purity paraffinic hydrocarbons for the pharmaceutical industry
... or contact us directly for a detailed consultation.