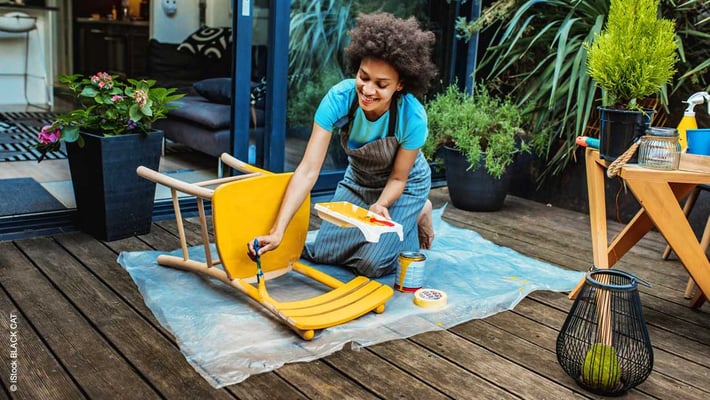 The paints and coatings industry is far more sustainable than one might think - and not only since the European Green Deal. The industry has long been working to meet the high demands placed on modern paints and coatings: Environmentally friendly, durable, harmless, easy to handle. In addition to occupational safety and processing, the right raw materials play a decisive role. Paraffinic hydrocarbons are part of the solution when it comes to sustainability. Learn more here.
Material protection through paints and coatings means protection of the environment.
By their very function, paints and coatings stand for more sustainability. As façade paints or industrial coating materials for windows or car series and repair paints, they ensure the protection and longevity of buildings and objects. In this way, they make a significant contribution to maintaining value, extending service life and thus conserving resources and the environment.
As early as 2012, the General Assembly of the European Coatings and Paints Association (CEPE) adopted a principle on sustainable development (Sustainability - CEPE). Economic, ecological and social principles were defined to guide the paint and coatings industry.
Another important component for more sustainability is the selection of raw materials. Here, above all, the proportion of volatile organic components has been steadily reduced. The focus also continues to be on alternative substances, such as substitutes for the substances xylene and toluene.
---
Excursus
Toluene and xylenes are aromatic hydrocarbons. Due to their high solvency, they were often used in paints and coatings. In the meantime, the use of these raw materials has declined because they are considered to be increasingly critical in terms of environmental compatibility and health.
Alternatives for toluene and xylene are now in demand. The requirements of the end products are decisive here, because not everywhere is such a high dissolving power needed. High-purity paraffins can be an adequate substitute here.
This blog article could also be of interest to you:
Petrochemical solvents for the paint and coatings industry: alternatives to toluene and xylenes
---
High-purity solvents for paints and coatings - a sustainable basis
In industrial production, solvents generally play a very important role - for paints and coatings in particular. The market requirements are high. On the one hand, the paraffinic hydrocarbons should be climate-friendly and environmentally compatible, and on the other hand, they should optimally support the required properties in the end product.
Solvents should
be free of aromatics,

not contain any unsaturated compounds,

have a purity of up to 99 % and

guarantee consistent quality.
Manufacturers of high-purity solvents meet these requirements through a comprehensive quality promise. This includes certifications such as ISO 9001, ISO 14001 or special accreditations of the testing and analysis laboratories for example ISO/IEC 17025. This is used for extensive monitoring of the production process.
Haltermann Carless offers these qualities to its customers in the paint and coatings industry and manufactures its aromatic-free, high-purity solvents in Germany, at the Speyer site - Made in Germany.
In addition to important environmentally friendly properties of paraffinic hydrocarbons such as absence of aromatics, we are increasingly focusing on sustainable products. Together with our customers, we research and develop solutions for more climate and environmental protection as well as resource conservation.
Learn more about our sustainability goals.
Conclusion
Special solvents are important base materials in paints and coatings. High-purity paraffinic hydrocarbons for the paint and coatings industry should therefore meet high standards - in terms of product purity and ingredients. After all, the conservation of resources and the environment is crucial for the future of this important branch of industry. When selecting your suppliers for high-purity paraffins, you should therefore also pay attention to the company's sustainability efforts.