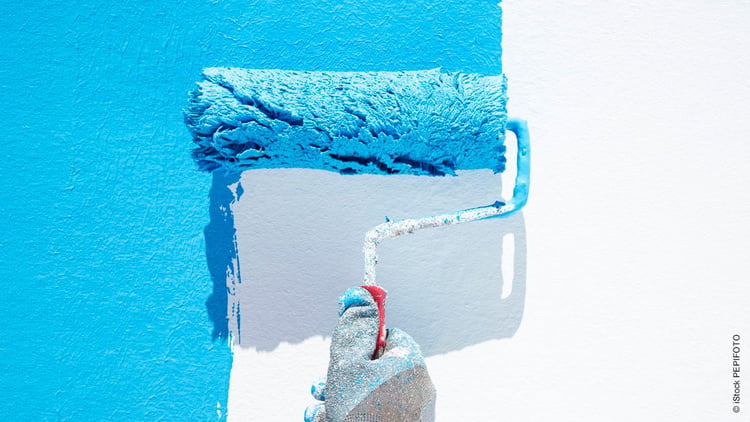 Impurities, modifications and delays: These three potential problems pose major concerns for the paint, coatings and adhesives industry. Manufacturers depend on continuity and reliability from their solvent suppliers. This means that consistently high quality and a timely delivery assurance are basic requirements for a long-term partnership. Haltermann Carless meets these requirements and offers additional services.
Market requirements for solvent suppliers
Solvents for the coatings, paints and adhesives industry are important base materials for various applications such as construction paints, printing inks, automotive series and car repair paints, coating materials, corrosion protection or adhesives, sealants and construction adhesives. As diverse as the range of applications is, the demands of the manufacturers are clear. Their main concerns are contamination, e.g. by unwanted aromatics, which reduces product quality, and delays in delivery, which minimise their planning precision.
Changes in quality and continuity should be avoided as far as possible. In this respect, the industry relies on long-term reliable suppliers and formulates clear market requirements:
Product quality
Free of unwanted aromatic compounds
Consistent purity
No unsaturated compounds
Process safety
Continuous production
Strict quality controls
Delivery promise
Reliable transport network
On-time delivery
Haltermann Carless offers compelling paraffinic solvents with a focus on long-term customer loyalty
Haltermann Carless has been committed to application and service orientation for over 160 years. This is also reflected by our long-standing customers in the paint, coatings and adhesives industry, who are firmly convinced of our offerings. Consistency in product quality and availability, as well as flexibility in terms of specifications and customer requirements go side by side.
We meet the requirements for tailor-made solvents for complex applications in paints, coatings and adhesives with 5 strong arguments:
1. Product quality
Haltermann Carless offers high-purity solvents of 95 % and 99 %, which are free of any unwanted aromatics and unsaturated compounds. We promise consistently high quality, which is ensured by our modern laboratories. Our products are of course all REACH-registered and "Made in Germany".
Are you looking for alternatives to toluene and xylenes? Then this article might be interesting for you:
-»Petrochemical solvents for the paint and coatings industry: alternatives to toluene and xylenes
2. Customised specifications
We support our customers with tailor-made specifications for specific applications and also provide advice on regulations and approvals.
3. Modern technology
Our modern production facilities are in continuous operation and ensure our ability to deliver. We invest in new technologies to provide consistently high quality as well as to protect people and the environment in the long term.
4. Quality assurance
A consistently high quality and purity of our solvents is assured by our laboratories and permanent quality controls during the production process. For this purpose, we have laboratories directly integrated into the production process as well as a supplementary laboratory, which is additionally accredited according to ISO/IEC 17025. To maintain the integrity of our products, each of our tanks is separated and independent with its own pipes. As a further safety measure, each tank has its own pump and mixing nozzle.
5. Delivery promise
For a punctual delivery of your products, we have established a wide range of services and have made our supply chain management particularly customer-friendly. Our storage capacities, a worldwide distribution network and our international transport network help us to achieve this. This allows us to implement bespoke delivery concepts for our customers in terms of packaging type, size and means of transport. We are in the position to provide you with optimum transparency in tracking your sensitive goods and comprehensive planning security.
Conclusion
Haltermann Carless meets the special requirements for solvents for paints, coatings and adhesives with 160 years of experience and know-how as a supplier of high-purity paraffins. We offer our customers a variety of high-performance products and comprehensive solutions in accordance with their requirements.
It is important for us to confirm the trust that has been placed in us with consistent quality and reliability and to always keep your individual needs in mind. In a personal meeting, we would be pleased to provide more details our solvents and services:
Free from unwanted aromatics
No unsaturated compounds
High purity of 95 % and 99 %
Consistently high quality
Extensive quality controls
Certification: ISO 9001, ISO 14001 and ISO/IEC 17025
"Made in Germany" - manufactured in Germany
Worldwide distribution
Individual delivery concepts