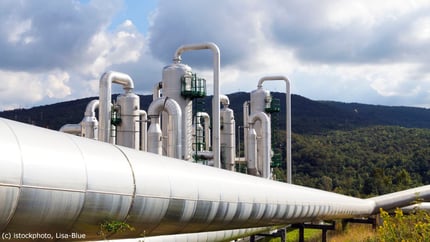 Organic Rankine Cycle (ORC) plants have become important pillars of the energy transition. They offer the opportunity to generate electricity and heat even if the temperature of the available heat source is too low for the operation of a turbine driven by steam. Organic process media are the solution. Read here to find out what they are and what quality is convincing.
Sustainable power and heat generation thanks to organic process media
The ORC process converts thermal energy into electricity. The special feature is the generation of electricity at temperatures and pressures that are significantly below the values in conventional power plants. This is an important approach for the reduction of CO2 emissions within the framework of the European Green Deal, and one that needs to be further developed.
Wherever large amounts of exhaust heat are generated at low temperature levels, they can be further utilised thanks to ORC plants. In this way, sustainable energy generation or re-energy generation is made possible by process heat from various industries such as pharmaceuticals, glass or cement, bioenergy such as waste and sewage sludge incineration plants, geothermal energy, but also solar power plants and ocean thermal power plants.
The decisive factor is the organic process media, which have better evaporation properties than water. A common feature of all substances is their low boiling points.
Examples of organic process media:
Butane (C4H10)
Toluene (C7H8)
Ethanol (C2H5OH)
Ethylbenzene (C8H10)
R152a (1,1-difluoroethane)
R245fa (1,1,1,3,3-pentafluoropropane)
Organic Rankine Cycle, explained in RP-Energie-Lexikon; ORC plant, efficiency, conversion to electricity, combined heat and power, working media
Pentane from Haltermann Carless: ideal process medium for the ORC process
High-purity Pentanes such as n-Pentane, iso-Pentane and Cyclopentane have long been part of Haltermann Carless' product range. They are indispensable base materials. Depending on the process requirements, all three Pentane isomers are particularly well suited as process media for use in ORC systems. Their properties are compelling and they meet all the necessary environmental regulations and certifications:
low boiling point (28 - 50°C)
low density
high vapour pressure (42 - 91 kPa at 25°C)
particularly high degree of purity of at least 95 %
Pentanes also have a very good ecological profile, as they have no ozone depletion potential (ODP) and only a low GWP (Global Warming Potential).
Value-added services
Haltermann Carless offers you comprehensive services and reliable delivery of Pentanes. Compelling services for you as a customer:
Flexibility in transport and logistics
Technical expertise and support
Quality assurance through our own laboratories attached to the plant
Security of supply through our new hydrogenation plant at the Speyer site
Read more:
Conclusion:
As a process media in ORC plants, Haltermann Carless' Pentanes are important for sustainable power and heat generation. Such processes are of great importance for achieving the climate targets of the European Green Deal. Besides the very good physical properties as well as a high product quality, Pentanes once again make an important contribution to the reduction of CO2 emissions.
Do you have any questions? Or would you like to know more about the performance of our pentanes? Then simply get in touch with us: