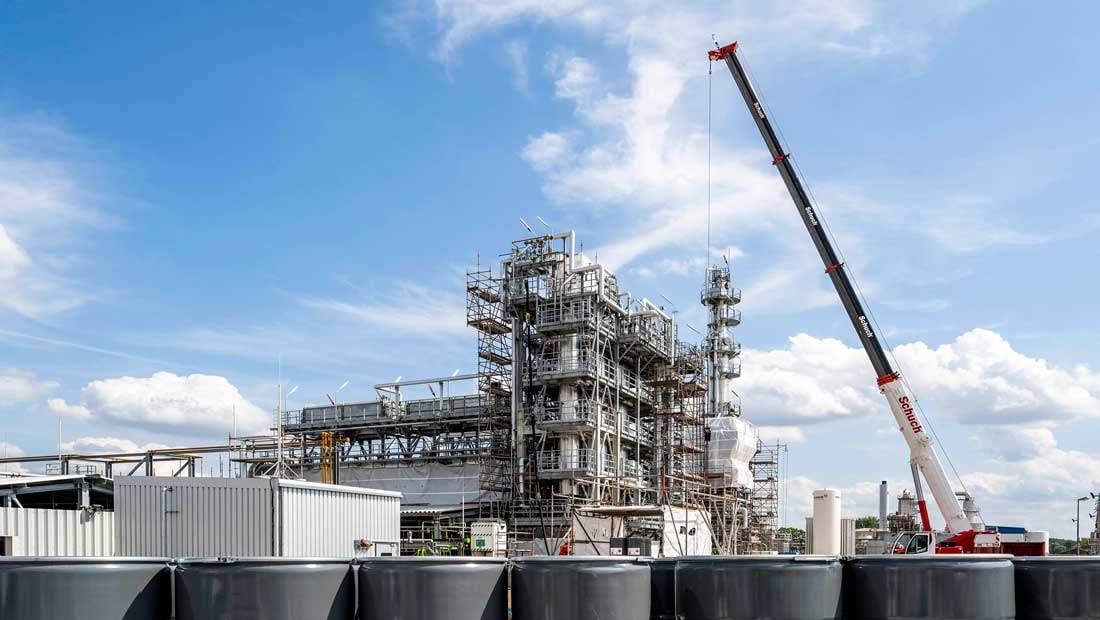 The demand for Pentanes is high. The reason for this is that this raw material is particularly important in insulation materials for construction and refrigeration appliances. As a foaming agent in Polyurethane (PU) and Polystyrene (EPS, XPS) systems, it ensures excellent insulation performance. Efficient insulation leads to cost savings and contributes to CO2 reduction. The demand for high-quality Pentanes is therefore high - we at Haltermann Carless are familiar with the market requirements and can offer you tangible solutions. Read more about our new hydrogenation plant and the benefits in the following article.
High capacity demand for Pentanes
Pentanes show their performance in various applications. As blowing agents, they are used in the production of insulating materials for the construction industry, for the insulation of refrigerators, but also for foaming shower gel in the cosmetics industry or in catalytic processes. Market requirements and capacity needs are therefore high.
Purchasers of Pentanes are often faced with the following questions:
Where can I obtain customised Pentane blends?
Can I get all three Pentane isomers - n-Pentane, iso-Pentane and Cyclopentane – from one source?
Who can supply me with consistently high qualities?
Which delivery promise guarantees me high reliability?
Where are high capacities available?
New hydrogenation plant for the production of Pentane offers high Cyclopentane capacity volumes
Having been familiar with the Pentane business for decades, Haltermann Carless has always found solutions for increasing demands and changing market situations. By investing in a hydrogenation plant, we can supply you even better with Pentanes, accompany the global market growth and help you to position your company strongly for the future.
Advantages at a glance
You can expect the following added value from the construction of the new hydrogenation plant:
High product availability
⇒ With the capacity expansion, we significantly increase the production volume for you - above all the availability of Cyclopentane, which is in high demand.


Broad Pentane portfolio
⇒ With Haltermann Carless, you can get everything from one source, because we are the only European manufacturer of all three Pentanes (n-Pentane/iso-Pentane/ Cyclopentane).


Customised Pentane blends
⇒ We can supply you with all mixing ratios - optimised for your application.


Future-proof technology
⇒ The new hydrogenation plant allows us to explore new paths; we will invest in product developments to offer you advanced Pentane types and blends.


High quality standards
⇒ You will receive high quality assurance from us based on our own claim of multiple tests and quality controls as well as our "Made in Germany" promise.


Reliable delivery and logistics
⇒ You benefit from our strategically positioned manufacturing site in Speyer with excellent connections (ship, train, truck); you can rest assured that your Pentane will be delivered to you as quickly as possible via the optimal transport route.
We deliberately chose our production site Speyer, Germany, as the ideal location in our Haltermann Carless Group with regard to our tailor-made supply chain concepts and its excellent infrastructure. These site benefits enable us to supply you reliably in Europe and worldwide. The quality or our Pentanes are ensured by multiple tests from the incoming raw materials, through the in-process controls to the final inspection by our laboratories on site.
Excursus: New hydrogenation plant for the production of Pentanes
In addition to Pentanes, we can also produce Middle Distillates in the new hydrogenation plant. In the hydrogenation process the raw materials are heated, passed over a catalyst, and processed into products ready for sale.
The hydrogenation plant gives us, as a company, a high degree of production flexibility so that we can react in a targeted manner to your and global market demands. In addition, it allows us to use a greater variety of raw materials and thus to procure those more easily. We have placed special emphasis on sustainable production processes that do not generate waste or waste water.
Read also:
Interview with Speyer plant manager: Site with a promising future
Conclusion:
With the construction of a new hydrogenation plant at the Speyer site, we are creating clear added value for you: greater security of supply with Pentanes, especially Cyclopentane, development options for new kinds of products, as well as ideal conditions in terms of delivery performance. In this way, customers from the refrigeration industry and the construction sector can look to the future with confidence and rely on Haltermann Carless as a strong partner.