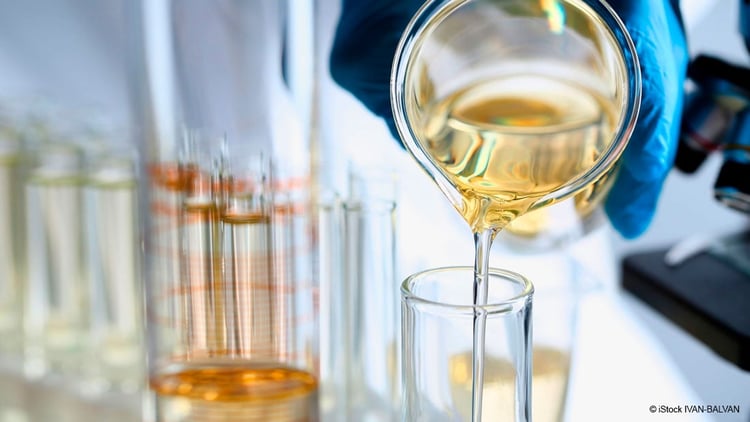 In the engine industry, market requirements are changing rapidly: one key driver is performance optimisation, which is particularly noticeable in the fuel additive industry. After all, fuel additives play a major role in ensuring that modern engines can develop their full potential. In the production of a high-quality additive formulation, solvents play an essential role. They are used as a carrier fluid and thus also contribute to improved environmental compatibility of engines. Read here which solvent properties are decisive and what else you should expect from your solvent supplier.
Dynamic market demands placed on the fuel additives industry
Fuel additives are subject to high performance pressures. Whenever there are new engine developments or changes in legal requirements/regulations for new fuel compositions, there is a need for higher qualities and new specifications. To combine different active molecules in a single additive formulation, a carrier fluid consisting of aromatic solvents is required. With the ever-changing market conditions, technical managers in the additives industry often ask themselves questions such as, how to ensure consistent high quality or which solvents can help to comply with new regulations or fuel specifications? Heavy aromatics are particularly well suited to meet the specific product requirements here.
5 must-have solvent characteristics for the production of fuel additives
Aromatic hydrocarbons are used as solvents and are particularly suitable as carrier fluids for critical ingredients of additives, such as
defoamer,
demulsifiers and corrosion and fouling inhibitors,
octane and cetane improvers,
extreme pressure and cold flow additives.
To create a high-tech product from a base fuel, innovative additive formulations with high-quality aromatics are needed. Solvents must be of a high purity and consistent quality that meet stringent legal requirements for certain end products, maintains specifications and enable sophisticated formulations. You should therefore pay close attention to the following criteria, when selecting a solvent supplier:

1. Stable solvent quality from batch to batch.
2. Constant high solvent quality with an aromatic purity of more than 99%.
3. Long-term storage stability of the product.
4. Stability against temperature fluctuations.
5. Option for solvent qualities with low naphthalene content.





A plus in service that matters
Your solvent supplier should deliver the highest quality and not compromise on the above properties. In addition to a high-quality product, other services are also of great importance: What safeguards and options does the solvent supplier offer in terms of production continuity and logistics, to ensure that you too remain able to deliver? What technical or laboratory facilities are offered to assure your quality? Reliable solvent manufacturers offer a wide range of services such as laboratories with extensive testing and analysis facilities or digital logistics solutions. In the best case, trustworthy suppliers offer personal advice and enable tailor-made solutions for you. One of the special services that will be of great advantage for their future cooperation is a customer focus with a strong orientation towards joint development programs and innovative cooperation. In this way you can benefit directly from the solvent supplier's extensive expertise and many years of experience.
Conclusion
Solvents must have distinctive properties to allow the production of high-quality fuel additives, which comply with all legal requirements. You should trust solvent suppliers with tailor-made services and products, such as Haltermann Carless' Caromax® heavy aromatic product range, which includes its low naphthalene content (Caromax® LN) and extra low naphthalene content (Caromax® XLN) and can therefore meet particularly strict legal requirements.
Click to find out more about Haltermann Carless' comprehensive services for aromatic solvents for fuel additives!