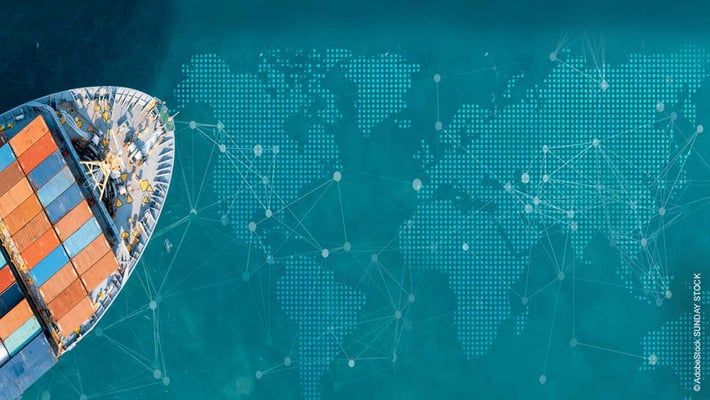 On-time delivery and reliable planning are important key factors for companies. Should delays occur during transportation, customers want prompt information and transparent communication in order to quickly implement new solutions and, in the worst case, avoid production downtimes. In this article, you can learn all about the requirements, technical implementation and customer benefits of introducing the digital supply chain platform at Haltermann Carless.
To meet customer requirements in a globally volatile supply chain, Haltermann Carless has expanded the digitalisation of its supply chain. With project44's digital tool implementation, another step in traceability was achieved and significant customer added value was created.
"We needed a digital supply chain solution that would cover as many of our transport chains as possible and minimise the complexity of tracking shipments. With project44, we found exactly that."

Florenz Treschau, SVP Supply Chain Management
What was the situation before implementing a digital supply chain solution?
The initial situation was complex. Haltermann Carless supplies products to customers all over the world from seven production sites. These hydrocarbon specialities often travel on long, international transport chains by overseas container and have to be at the delivery location by a certain date. Information about possible delays in transit was previously recognised and communicated late, making it difficult to find a solution with the customer.
What requirements should the digital supply chain fulfil?
Haltermann Carless places very high demands on its own customer service. That is why the chemical company is always actively looking at how the services it offers can be further improved. This also includes offering customers an ideal supply chain solution in the supply chain environment.
In this context, it was important to reliably map the entire transport chain in order to detect any kind of delay in time and to be able to react as quickly as possible. The goal of the digital supply chain platform was primarily to proactively inform customers about possible delays in transit in the future in order to be able to jointly search for suitable solutions to minimise possible effects.
"We can already track 95% of our overseas containers via project44's digital supply chain platform and are very satisfied with it."

Florenz Treschau, SVP Supply Chain Management

What was the technical implementation of the digital supply chain platform like?
After extensive product research on various digital supply chain solutions, the choice was made for the "Advanced Visibility Platform" from project44. Appropriate interfaces made the technical implementation of the digital supply chain solution easy to realise, so that the team was able to use the application quickly. The connection to the SAP system enables the transfer of shipment data to project44, where the shipments from overseas and land transport can be comprehensively tracked.
In addition to the smoothly functioning technology, user-friendliness was also important. With just one click, Haltermann Carless employees can now access project44's shipment tracking directly from their familiar transport management module in SAP and immediately see where the goods are currently located and when they are expected to arrive at their destination.
What are the benefits for customers of Haltermann Carless' digital supply chain solution?
90% of Haltermann Carless' goods are transported in liquid, bulk form and can already be tracked with the new digital supply chain tool. As a next step, the chemical company plans to extend the digital supply chain tracking to rail transport and packaged goods in order to increase transparency and planning reliability for customers in these transport chains as well.
Customer benefits at a glance:
High transparency and planning reliability - worldwide
Active and timely notification by Haltermann Carless in the event of delays
Negative influences of delayed deliveries on production processes are reduced
95% of overseas containers are already tracked today via the digital supply chain platform
Rail transports and packaged goods will soon be integrated in order to offer customers increased planning accuracy for these transport routes as well
"With the Movement by project44 tool, we will be able to monitor all transport chains in one interface in the future. In this way, the selected digital supply chain solution allows us full transparency with maximum user-friendliness."

Florenz Treschau, SVP Supply Chain Management

Find out more on our Services page:
Conclusion

With the new digital supply chain tracking platform, Haltermann Carless is able to immediately identify and respond to difficulties on transport routes. In this way, customers are proactively informed by the Haltermann Carless service team in the event of possible delays. The impact of delays on the transport route is thus reduced to a minimum thanks to the newly gained information and digital transparency, as the Haltermann Carless team can work with customers to find solutions to impending bottlenecks as quickly as possible. This saves costs, enables better cooperation and increases satisfaction on both the company and customer sides.
Would you like to learn more about our services? We will be happy to advise you!
Learn more in these blog articles: