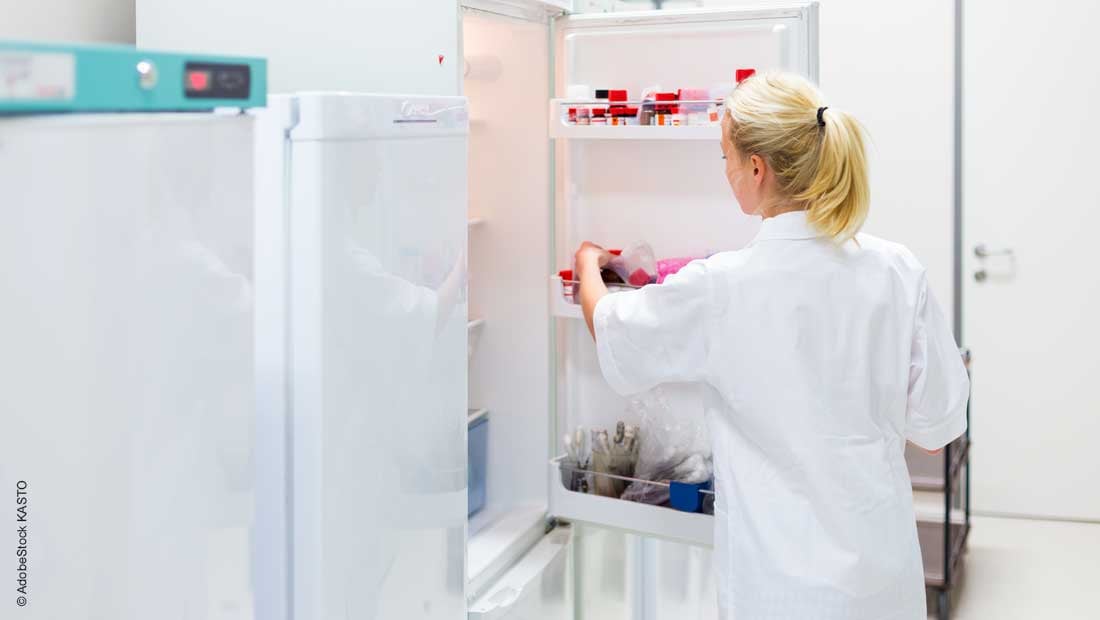 For pharmaceuticals to retain their effectiveness, there are a number of regulations governing their handling, but especially their proper transport and storage. In addition to safety and hygiene regulations, the obligation to cool a whole range of medicines and other important products for health care is of great importance. Refrigerators and refrigeration logistics play an important role in the pharmaceutical industry. Efficient insulation and high-quality raw materials such as Cyclopentane are a key component for safe cooling performance. Read more.
Refrigerators play a vital role in the safe and effective use of pharmaceuticals
In the medical sector, mandatory refrigeration and cold chains ensure the assured efficacy of biopharmaceuticals, such as vaccines, insulins or interferons, as well as antibiotics, special eye drops or certain aerosols for asthma, for example. Blood products and biological specimen also require cooling or freezing.
Refrigerators or freezers for medical needs have an important role to play in terms of performance capacity, high-quality fabrication, volume and, above all, efficiency. They ensure that pharmaceutical products and medicines remain in perfect condition and guarantee safe use for patients.
Criteria for safe cooling of pharmaceuticals
Medical refrigeration products are diverse: from medicine refrigerators to blood plasma freezers and laboratory refrigerators to blood bank refrigerators. They all have in common the high standard that these cooling and freezing storage devices must have in order to store pharmaceuticals safely and in a usable condition for a long time.
The European Union has declared the rules for refrigeration and refrigerated transport uniformly via the EMA (European Medicines Agency) in the Note for Guidance on Declaration of Storage Conditions.
In addition to important standards such as a maximum noise emission of 60 dB(A), a power failure alarm or a visual and acoustic warning device for excessively high and low temperatures, the unit-specific information on energy consumption, temperature homogeneity and consistency are important criteria for safe cooling of sensitive medical goods.
Ensuring the cooling of pharmaceuticals with high-quality insulation - thanks to Cyclopentane
The insulation in medical refrigerators plays a crucial role. Its thickness is limited in the refrigerator, yet it must provide maximum insulation performance and achieve the best results in terms of energy and temperature consistency.
Polyurethane (PU) insulating foam is typically used in medical refrigerators for this purpose. It is particularly efficient if it is produced with a so-called blowing agent Cyclopentane. Since the blowing agent remains partly in the cells of the polyurethane foam, this leads to a particularly good insulating property. As a result, the high requirements for the cooling of pharmaceuticals, such as energy consumption, temperature homogeneity and consistency, can be reliably met.
Cyclopentane is manufactured by Haltermann Carless, among others, and achieves the highest quality standards. As a strong partner of the refrigeration and appliance industry, the chemical company is the world's largest producer of Cyclopentane. The Pentanes (Cyclopentane, n-Pentane, iso-Pentane) are manufactured in Speyer, Germany. Besides the high product qualities of Haltermann Carless' Pentanes, manufacturers of refrigeration devices also benefit from comprehensive services such as tailor-made Pentane blending options in all mixing ratios and customised supply chain solutions.
Find out more here:

Do you have specific questions for us? Please do not hesitate to reach out to us:
Conclusion
Refrigeration systems for pharmaceuticals, blood products or biological specimen are critical equipment in medical practice, laboratories, hospitals and pharmacies to store medical products safely and effectively for the benefit of the patient. In this context, optimal insulation of the medical refrigerators contributes significantly to energy efficiency and stable cooling performance. Cyclopentane from Haltermann Carless plays a vital role as blowing agent in the production of high-performing Polyurethane (PU) foams and as such is a very important building block in the cooling of pharmaceuticals.