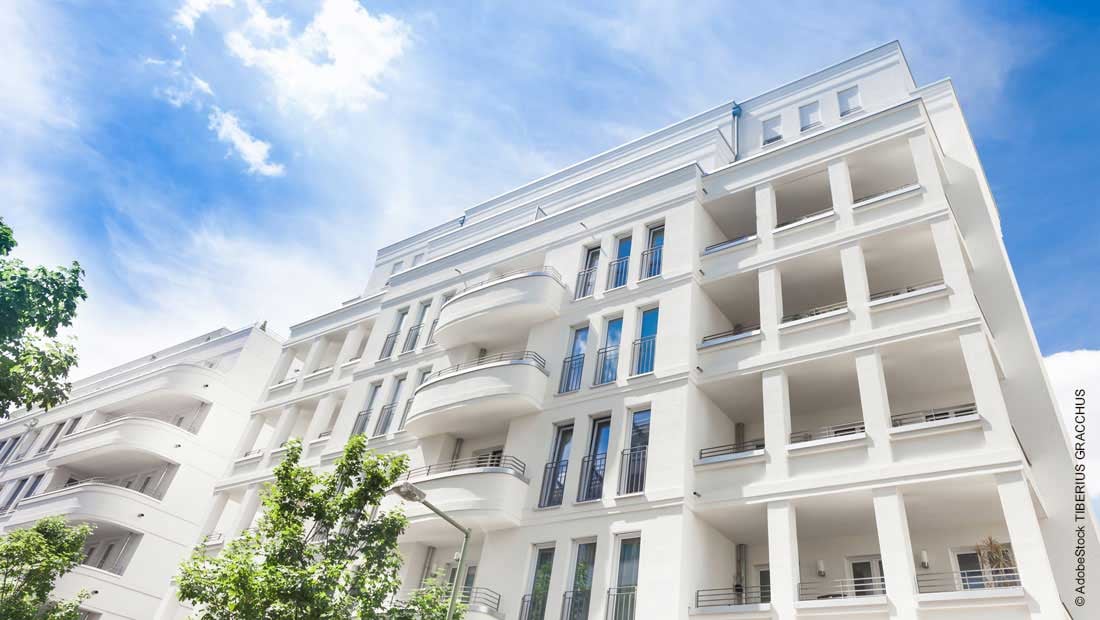 Building insulation is playing an increasingly important role in reducing CO2 emissions and achieving European climate protection goals. Comprehensive insulation is nowadays mandatory in many countries for new buildings. Retrofitting in existing buildings, especially those that are historic, on the other hand, poses many challenges and requires good planning and the right material. Find out here how polyurethane (PU) foam panels and the blowing agent Cyclopentane can contribute to the solution.
Increasing energy efficiency of buildings: an essential contribution to climate protection
At the end of 2021, the European Commission agreed on the future funding of renovation and decarbonisation of buildings as part of the European Green Deal.
In 2050, Europe is supposed to be climate neutral. At that time, 85% of today's buildings will still exist, and not all of them will have been renovated or retrofitted. The consumption of unrefurbished buildings causes many times more greenhouse gas emissions and energy costs than new buildings. Thermal insulation is therefore, among other things, one of the most effective ways to regulate these deficiencies.
PU rigid foam panels are well suited for the energy efficient renovation of historic buildings
Owners of buildings who want to improve their energy efficiency and consider insulation face great challenges, especially in historic buildings. The reason is that high insulation performance is required in certain areas, but only a small thickness of the insulation material is possible.
Rigid foam boards made of polyurethane (PU) are often the solution: they are particularly thin and at the same time offer a high insulating performance. They are ideal for effective insulation in challenging places.
Polyurethane (PU) ridig foams find particular application in roof, wall and ceiling insulation, for example:
Insulation in the roof area between the rafters
Insulation of false ceilings in interior rooms: In this case, application directly under the ceiling is possible due to the low weight and thickness.
Use as perimeter insulation where contact with the ground is possible.
Sealing of roller shutter boxes, which require particularly thin but effective insulation materials.
Exterior insulation where the exterior appearance and façade should not be altered by thick insulation.
Other advantages of Polyurethane (PU) foam boards are:
Compressive strength
Durability
Resistance to fungi and rot



Cyclopentane is indispensable as a cell gas in PU foam panels for the energy efficient refurbishment of historic buildings
Cyclopentane is important for insulation in historical and existing buildings, because the blowing agent is used for foaming in polyurethane (PU) rigid foam panels. The blowing agent remains as cell gas in the insulation material and thus develops a particularly high insulating effect.
The thermal conductivity of PU rigid foam panels is particularly low, typically approx. 0.025 W/m∙K. Cyclopentane contributes directly to energy savings and the reduction of CO2 emissions.
In addition, Pentanes - Cyclopentane, iso-Pentane and n-Pentane or Pentane-Blends - provide a very good ecological profile:
No ozone depletion potential (ODP = 0) according to the Montreal Protocol.
Very low global warming potential (GWP < 1).
Environmentally friendly alternative to CFCs, which are now largely banned and hazardous to the environment.
In the context of European climate protection regulations and their implementation in national law, such as the energy efficiency laws, the insulation industry sees an increasing demand for high-quality insulation materials for historical and existing buildings. PU rigid foam boards, produced with Cyclopentane, offer a wide range of possibilities for these applications.
Haltermann Carless is the world's only manufacturer of all three types of Pentane and the largest producer of Cyclopentane. To meet the growing demand for high-purity Cyclopentane, the company recently invested in a modern production plant. The hydrogenation unit in Speyer, Germany, will provide the global insulation industry with reliably capacities of Pentane.
Conclusion
Thermal insulation will remain a topic of increasing importance, because existing buildings will gradually have to improve their energy efficiency. Insulation materials such as rigid polyurethane (PU) foam boards offer a wide variety of applications due to their very good insulation performance, especially in historic and existing buildings. Cyclopentane, as a blowing agent, is directly responsible for the high efficiency of PU foams and will be required in large capacities by insulation manufacturers in the future. Haltermann Carless can meet this increasing demand with its new hydrogenation unit and is ready to support customers in the insulation industry with tailor-made Pentane blends and customised services.
Find out more here:
Or reach out to us for more information: