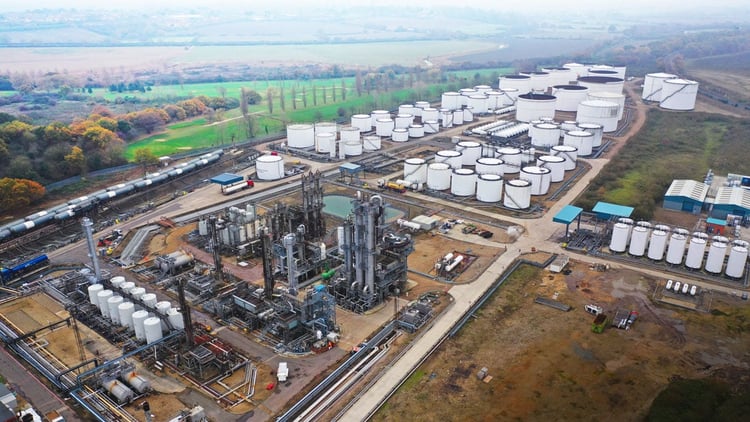 Companies in the Oil and Gas as well as Petrochemical industries are facing many challenges today. The fulfilment of legal requirements, compliance with industrial standards and the increasingly stringent quality specifications of customers often require a great deal of effort and are reflected in rising production costs, among other things. This might explain a growing demand for custom processing. Haltermann Carless' production plant in Harwich, UK, focuses on tailor-made customer solutions and is ideally equipped for custom processing.
Growing demand for custom processing
In addition to manufacturing its own high-quality products, Haltermann Carless is positioned as a custom processor with its plant in Harwich,UK. As market leader in the aromatics and speciality hydrocarbons sector, we can also utilise our competence in production for other suppliers and customers. A customer's lack of processing capacity or process technology, or the wish to outsource secondary processing to use its own plants for higher added value activities, leads to a need for external support. Custom processing can also have a role in the launch of new products, thereby enabling investment decisions in new plants to be taken against a background of greater market experience. Excellent site conditions and capacities at Harwich enable us to absorb order peaks from our customers and support them in any of these situations.
Haltermann Carless – the expert for tailor-made products and services
With roots dating back to 1859 and over 50 years of experience at the Harwich site, we are a strong cooperation partner for our customers in the Oil and Gas and Petrochemical industries for high-quality hydrocarbon specialities and solvents. We offer the following services depending on your requirements and specifications:
Processing of contaminated streams (e.g. insurance claims; products not classified as a waste)
Treatment of process by-products to recover recyclable materials contained therein
Production of launch volumes
Regeneration of used solvents
Production site offers ideal conditions and capacities
In Harwich, perfect conditions are available, such as considerable process efficiency thanks to optimised and modern production units, as well as high plant availability:
Batch Distillation Plants
Two batch distillation units, which can also be linked together to operate as a two-column distillation plant either fully continuous or in a semi-continuous mode.
Condensate Distillation Plant
A four-column continuous distillation plant, designed primarily for the fractionation of North Sea gas condensates (or similar streams such as pipeline interfaces or mixed fuel streams) into a variety of distillate fractions.
High Vacuum Distillation Plant
A continuous three-column distillation plant, designed primarily for high vacuum operation with low internal pressure drop, to fractionate special gas oil and heavy aromatic feeds at lowest possible column bottom temperatures to minimise product degradation. However, it is also possible to process North Sea gas condensates and pipeline interfaces on this plant.
In addition to the distillation plants mentioned above, the site offers the Perco® sweetening process and soda lime treatment to improve the product odour.
→ Click here to get more technical details on our production units in Harwich!
Market leader with 360° service
Strong arguments are provided not only by the modern distillation and mixing plants and continuous production (24/7). We produce for our customers in a reliable, safe and high quality manner. Modern laboratory equipment, as well as qualified employees, guarantee a smooth control process and ensure consistently high quality through a wide range of measurement and analysis options.
Our site is comprehensively certified to ISO 9001 (quality assurance) and ISO 50001 (energy management), ISO 14001 (environmental protection) and ISO 45001 (health and safety at work). We also provide support and advice on approval procedures and regulatory issues. Additional services in the area of storage and filling complete our service concept.
Read also:
Haltermann Carless: Our strengths in supply chain management
Haltermann Carless establishes a team of Sustainability specialists
Location advantages and comprehensive logistics services
Harwich is located on the east coast of England in close proximity to the major oil and chemical refineries of Europe. A deep-water jetty, a railway siding and road loading and unloading facilities provide connections to all modes of transport infrastructure. In combination with various packaging sizes, such as drums, IBCs or in tank containers, this enables tailor-made transport requirements to be met. Taking into account all safety regulations and thanks to local storage facilities of 170 tanks ranging from 12 m3 to 15,000 m3, punctual and reliable delivery – within Europe in 3 days - can be ensured.
Please contact us for details of our work and the Harwich site:
Conclusion
The production site in Harwich offers extensive advantages in terms of flexible production and process options for your custom processing, as well as individual consulting and services.
Harwich's location advantages and strengths:
Leading in high-quality hydrocarbon products with over 50 years' experience
Strong partner in custom processing
Continuous operation 24 hours a day, 365 days a year
Experienced and highly qualified staff
High-precision mixing of several components in the tank for tailor-made customer specifications
Quality assurance through modern laboratories connected to the production
Best location at the port with connections to all transport routes
Total storage capacity of 150,000 m3; including heated storage facilities
Individual pack sizes of 25 and 50 litre containers, 200 litre drums and 1000 litre IBCs
ISO 9001 certification for quality assurance, ISO 14001 for environmental protection, ISO 50001 for energy management and ISO 45001 for health and safety at work.