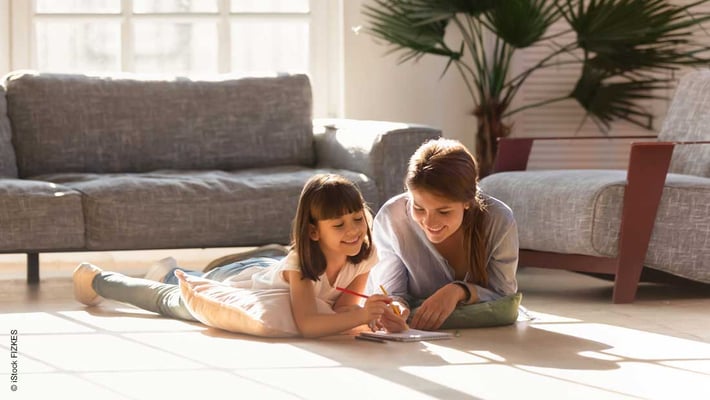 In the context of the European Green Deal, the topic of energy efficiency and building insulation is of growing importance. Legal regulations such as the EU's Energy Performance of Buildings Directive (EPBD) regulates energy savings around new and existing buildings. Thermal insulation plays a particular role, along with other factors. Read how climate protection can be best addressed in the building industry.
In the European Union, buildings are responsible for about 40% of the energy consumption, and 36% of greenhouse gas emissions from energy. In order for Europe to become climate-neutral by 2050, as anchored in the Green Deal, new buildings need to be built more climate-friendly and existing buildings need to be made more energy efficient and climate neutral. But only 1 % of the existing buildings undergo an energy efficient renovation every year. This is why the European Commission has published a Renovation Wave Strategy in 2020 to double renovation rates in the next ten years and make sure renovations lead to higher energy and resource efficiency.
Building directives promote climate protection
In order to promote climate protection, and thus the reduction of CO2 emissions, the entire energy use of a building has been regulated since 2021 at the latest. The EU sees a high savings potential in comprehensive and holistic building energy management and the possibility of using renewable energies in a targeted manner. The requirements are regulated in the EU Energy Performance of Buildings Directive (EPBD) and the Energy Efficiency Directive (EED).
"To achieve the at least 55% emissions reduction target for 2030, proposed by the Commission in September 2020, the EU must reduce buildings' greenhouse gas emissions by 60%, their energy consumption by 14%, and the energy consumption of heating and cooling by 18%."
Building energy: Why thermal insulation offers a high energy-saving potential
The aim of the regulations is to reduce the energy demand of buildings - this includes the generation of heating, cooling and electricity for the operation of buildings - and to promote the increasing use of renewable energies. In future, every building is to be a low-energy building whose energy consumption approaches "zero".
In addition to factors such as climate-friendly air-conditioning and ventilation systems, central heating, water heaters and hot water storage, demand-oriented and efficient use of living space also plays a role.
However, thermal insulation remains to play a key role in energy efficiency. According to the Federal Environment Agency in Germany, an uninsulated wall loses the equivalent of 158 liters of heating oil per square meter over 20 years, whereas a very well insulated house wall loses only 20 liters: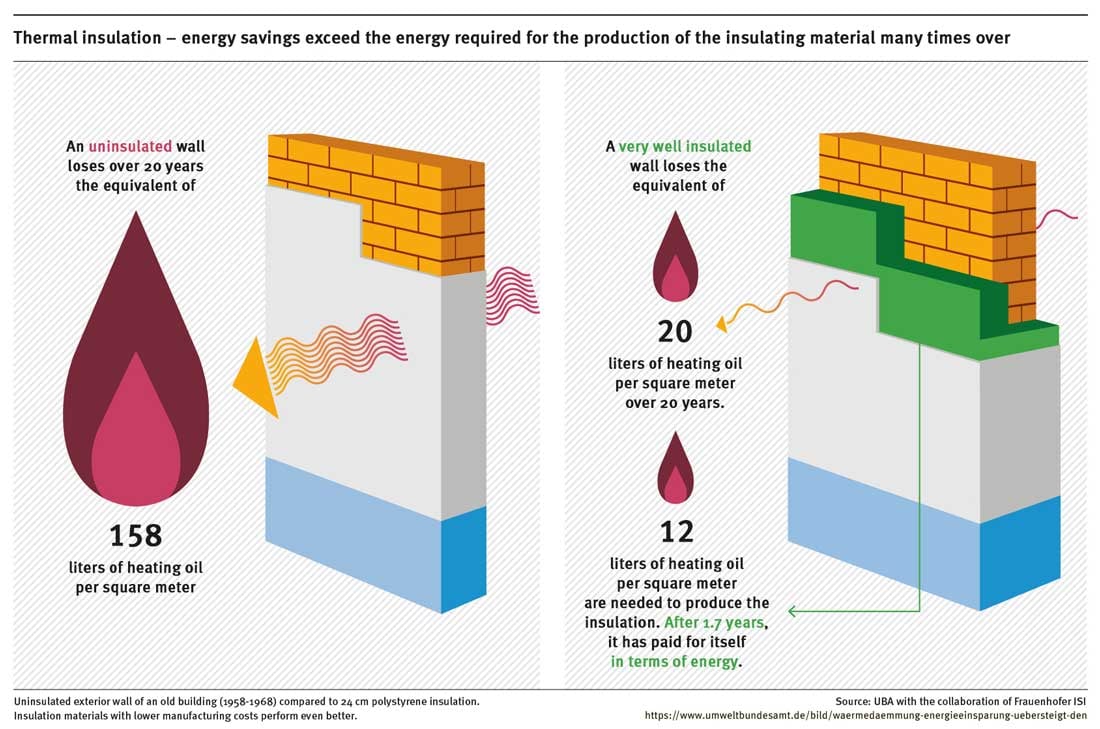 Source: Federal Environment Agency, Germany
An efficient thermal insulation of buildings and pipe insulation can be achieved with insulation materials such as expanded polystyrene (EPS) or rigid polyurethane (PU) foams. The production of these foams require blowing agents. Pentanes (n-Pentane, iso-Pentane, Cyclopentane) have a key function in this respect. With their property as low thermal conductors, especially in the case of Cyclopentane, they are responsible for excellent insulation performance and thus contribute to cost and greenhouse gas emission savings.
Read more in these blog articles:
Conclusion
Building regulations: The EU Energy Performance of Buildings Directive (EPBD) and the Energy Efficiency Directive (EED) provide a framework for more energy and resource efficiency in the building sector. Requirements are defined not only for new buildings, but also for existing buildings. The Renovation Wave strategy is not only about making the existing buildings more energy efficient and climate neutral. It is aimed to trigger a large-scale transformation of cities and the built environment. Particularly in times when rapid implementation of climate protection targets is required in the context of apparent climate change and higher temperatures, thermal insulation, especially with highly efficient insulation boards made of polyurethane (PU) foams, can be a game-changer.
Interesting link for our readers:
BUILD-UP – The European portal for energy efficiency – is the European portal for energy efficiency in buildings managed by the Executive Agency for Small and Medium-sized Enterprises.
You would like to read our articles regularly? Then simply subscribe to our blog. We continuously publish articles with information about the production and use of high-quality hydrocarbon products and solvents.