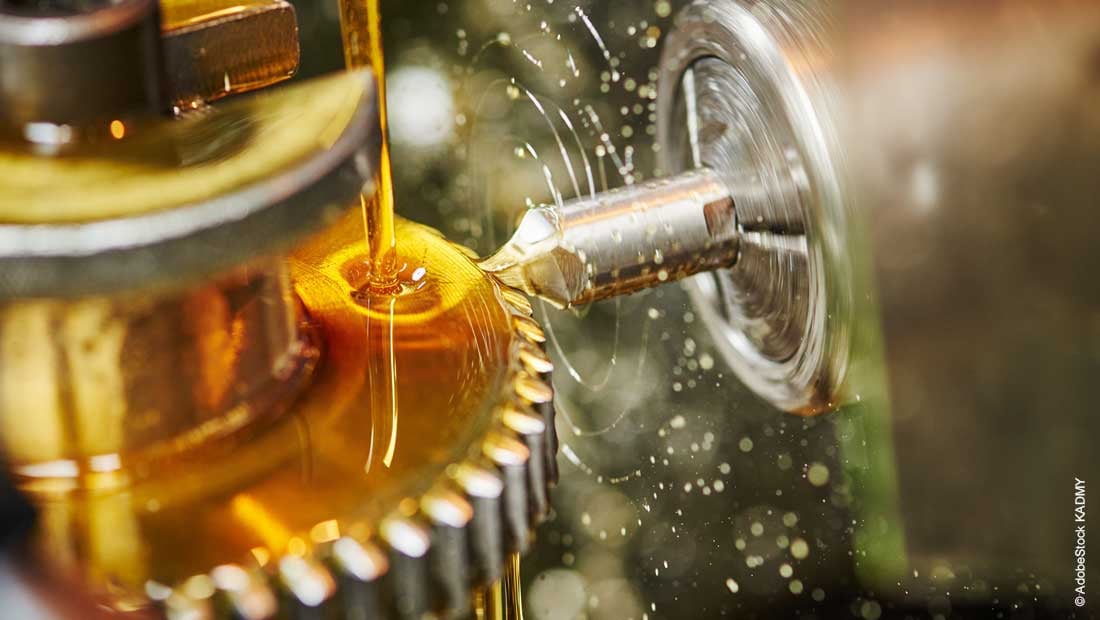 Without industrial lubricants, many moving mechanical elements cannot function smoothly. Today, the industry uses high-performance lubricants with properties that are adapted to the respective process conditions. Here you can find out the most important facts about industrial lubricants.
There is a large selection of industrial lubricants that perform a wide variety of tasks depending on the area of application. A distinction is made between different types of lubricants.
Industrial lubricants, which are used in fixed installations.
Hydraulic oils, which are important in plants with power transmission.
Cooling lubricants, which are used in forming or milling of materials.
Gear and engine oils.
Rolling oils, which are needed in the production of thin metal sheets, for example.
Lubricating greases, which tend to have a solid base.
H1 lubricants, which are used in critical plants such as in food or pharmaceutical production and are subject to special requirements for consumer protection.
Industrial lubricants - important building blocks for extended machine use
Primarily, all lubricants have the same primary tasks:
Lubrication
Friction reduction
Wear reduction
Corrosion and surface protection
Heat dissipation
Noise reduction
Extension of machine service life
Individually formulated industrial lubricants enable ideal performance
Industrial lubricants must be precisely formulated in terms of their technical properties for their various areas of application. Important factors here are for example solution behaviour, extreme temperature resistance, variable viscosities and outstanding, defined boiling behaviour. Further physical parameters are density, aniline and dropping point, flash and ignition point, as well as neutralisation capacity, which is decisive for the ageing of lubricants.
Crucial for the specification are the highly concentrated additives, which often enable a change in properties and performance. For example, they help optimise the surface tension of the lubricant or make it flowable even at low temperatures.
High performing industrial lubricants rely on high-quality base oils
The main component of industrial lubricants, are the base oils, which are subject to special requirements.
These include:
Low aromatic content
High flash point
Very good low-temperature performance
Good solubility in some cases
Modern low-viscosity base oils play an important role in the quality of industrial lubricants. An extremely low aromatic content and particularly high purity are particularly in demand today.
In this article you will learn more about the properties of modern base oils and their advantages for industrial processes:
Conclusion
Industrial lubricants are indispensable components for today's plant operation and for modern manufacturing processes. Without them, safe and smooth production in almost all industrial sectors would not be possible. Low-viscosity base oils, which make up a large part of the industrial lubricant, play a central role. Their physical properties are critical for individual formulation along with additive packages. Modern base oils offer high purities, defined boiling points, extreme temperature resistance and an extremely low aromatic content.