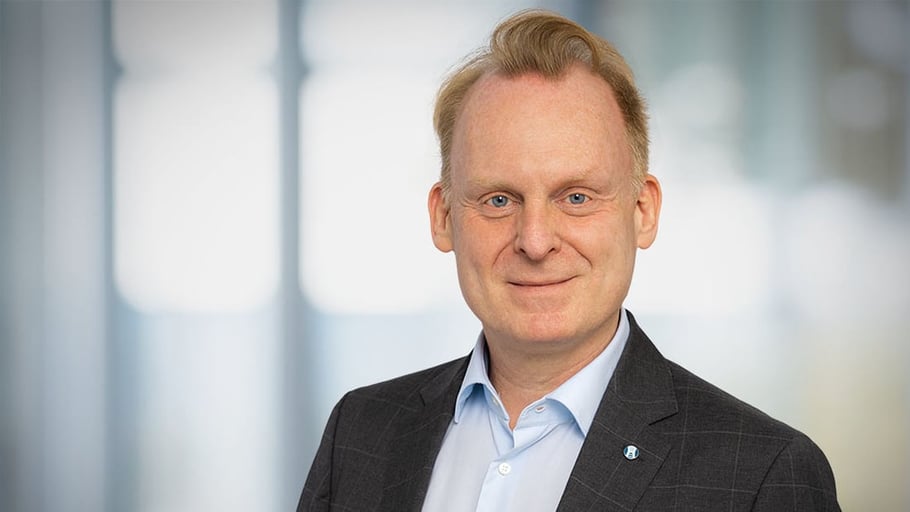 How can climate neutrality be achieved for the whole world over the next 50 years without limiting prosperity? Global energy solutions as possible paths to climate neutrality - this is what the association Global Energy Solutions wants to achieve. As a pioneer of sustainable chemicals and fuels, we are pleased to have been invited for an interview on the subject of Sustainable Aviation Fuel (SAF). Dr Harald Dialer, our Chief Commercial Officer, talks about current developments, our goal to be the first commercial producer of SAF in Germany and explains why ramping up SAF production is such a challenge.
HCS Group wants to produce 60,000 tonnes of Sustainable Aviation Fuels (SAF) at its production site Haltermann Carless in Speyer, Germany, in 2026. That seems like a huge amount - but measured against the demand for sustainable aviation fuels, it is only a drop in the ocean and can only be the beginning of a much higher production volume. SAF stands for aviation fuels that are not produced from fossil fuels but from various renewable sources. Dr Harald Dialer, Chief Commercial Officer of HCS Group, explains in an interview with Bert Beyers, Head of Communications Global Energy Solutions, why the ramp-up of SAF production is such a challenge.
The interview was held by Bert Beyers, Head of Communications, and published by Global Energy Solutions on September 1 2023. (-> Website GES)
Bert Beyers: What do you personally have to do with Sustainable Aviation Fuels (SAF)?
Dr. Harald Dialer: I have been part of the Executive Committee of HCS Group as Chief Commercial Officer for three and a half years. And throughout my career I have been involved with the commercialisation of new technologies. To a large extent focused on sustainable fuels, renewable chemicals, be it from biomass, cellulosic waste, fats and oils, or electricity-based like Power-to-Liquids. We call ourselves pioneers of renewable hydrocarbons. Our strategy is clearly aimed at defossilisation. We all cannot do without hydrocarbons, so in this area the otherwise more commonly used term decarbonisation is not specific enough. Our strategy is to evaluate where hydrocarbons are still indispensable in the coming decades. And where there is a chance to utilise the carbon not from fossil sources but from renewable ones, or to make it circular.

And therefore also SAF?
Yes, because no other large-scale solution will be available for decades, especially for medium- and long-haul flights. Sixty-five per cent of the measures that airlines can take towards climate neutrality are aimed at SAF.

Your website says that your company wants to produce 60,000 tonnes of SAF in Speyer from 2026. 60,000 tonnes: Is that a lot or is it a little?
On the one hand, it is a lot because there are no established value chains - unlike fossil refineries and petrochemical plants. We see it as the first stage and that is why we are building on an existing site from which we already bring several 100,000 tonnes of products to market every year. But when you consider that the 'Fit for 55' mandates for the EU and national UK targets in 2030 alone will require 3.7 million tonnes. And if you look at the other voluntary commitments, we are talking about a total of 5 million tonnes of demand in 2030. Measured against this, the 60,000 tonnes from second-generation biogenic residues are comparatively small. But a significant contribution compared to the small demonstration plants we have seen in Europe in recent years.

SAF is a collective term and there are several ways of producing it. What do you rely on?
The routes so far, which will also ensure the largest volumes by the middle of this decade, rely on vegetable oil, used cooking oil (UCO). This is the route that is currently being used to produce several 100,000 tonnes of SAF. But this route is limited: It involves a limited energy carrier with limited availability and limited supply. Moreover, following cases of fraud in alleged used cooking oil from Asia, there is considerable doubt about certified sustainability in this area.

And what is your path?
We are focusing on biomass from waste and residual materials from forestry and agriculture, where availability is much greater and with which the next level is achievable. It is clear that the route via used cooking oil, even if you collect everything globally, can cover a maximum of ten percent of the demand. The rest must come from routes based on advanced biomass, and then of course there is the quasi-unlimited royal route from CO2 via Power-to-Liquid, where large-scale projects are only expected in the more distant future after 2030.

Waste and residual materials from forestry and agriculture, what does that mean in concrete terms?
For example, they can include straw or wood waste or waste from starch production that is not suitable for humans or animals. Within the RefuelEU Aviation Regulation and in the so-called Annex IX of the Renewable Energy Directive (RED II), the EU has clearly regulated and listed which materials are authorised in order to be able to produce SAF sustainably in the long term. This prevents, for example, the potential conflict with food and feed problem or the issue of additional land use.

Are SAF really climate-neutral?
Of course they have to be certified. Compared to fossil fuels, we achieve a reduction of up to 85 percent CO2 equivalents. This is also something that the airlines have to provide proof of and where the suppliers are also held liable.

One of the great advantages of SAF is that it can simply be dropped in, i.e. it can be added to fossil fuels. Where are the difficulties in logistics?
I mentioned earlier: there are no established supply chains, both in terms of raw materials and delivery to the aircraft. Currently, the maximum blending with SAF to fossil fuel is 50 per cent. This means that this blending has to be done separately. It must be certified. And it must meet very narrow standards. The infrastructure for this has to be built up and established either independently or in partnerships.
Because the airlines of course also want and need the certificates in order to be able to prove that they meet the quotas set, for example, by the EU.

How expensive is sustainable fuel?
Compared to fossil fuel, SAF is definitely three to four times more expensive. A fairly liquid market is slowly developing. You can also see that it trades somewhere between 3,000 and 4,000 US dollars per tonne, depending on the volume purchased, compared to fossil fuel, which is around 1,000 US dollars per tonne. Of course, these are still smaller volumes that are being traded at the moment, and which will have to go up to several million tonnes in order to meet the requirements.

Where are the difficulties in the ramp-up?
First of all, there are many stakeholders: not only the commercial airlines, air freight companies and the fuel suppliers, but also the government, that wants to accelerate the ramp-up. As with hydrogen, there are very ambitious targets for SAF. In addition, clarity must also be created on the regulatory side. And the most important thing, as you say, is the financing of the ramp-up in order to get the first larger projects up and running. It is quite noticeable that some of the big oil companies are still holding back and do not want to be the first movers with large-scale investments in this area.

Why is that?
There is a general risk in scaling up new technologies and you have to very carefully define and mitigate it before you invest in a larger scale yourself. And then, of course, you have to say that the oil companies profit from backward integration, i.e. from oil production. And it is a very difficult balancing act for the companies to make commitments for many 100,000 tonnes of production and also many 100 million euros of investments in the field of SAF.

Speaking of commitment, you always read about great promises in terms of climate neutrality. IATA, for example, talks about Net Zero 2050. How does that fit in with all the difficulties of the ramp-up?
We are one of the companies and partners currently engaged in a working group to develop a roadmap with recommendations for action for the German Federal Ministry for the Environment, Digital Affairs and Transport and ultimately the German government. The discrepancy between aspiration and reality is also being addressed by the airlines, who see that they will have to meet certain requirements very soon. Or take a company like DHL, which even wants to go well beyond the specified quotas as part of its own sustainability strategy. With the roadmap, we do a reality check of the many announced projects that everyone relies on. If you add up these projects with 100 percent probability, you come relatively close to the required targets. However, if you take into account relevant criteria, such as an existing production location, the legal situation, the conformity of the raw materials and especially the concrete planning process with the corresponding financing, then you can see that there is a massive gap. And this must also be closed with government assistance - and this includes not only promotional measures and targeted cooperation with the financial sector, but also through rapid implementation of regulations and guidelines at EU and national level. This also involves avoiding distortions of competition or carbon leakage, as the companies committed to RefuelEU Aviation must not suffer any disadvantages as a result of the ambitious climate targets.

State support - is it Germany, is it the EU?
The EU has one of the largest funding pots to support the ramp-up of first-mover projects. For example, we are talking about a total of 3.6 billion Euros from the EU Innovation Fund for sustainable technologies. However, the difficulty in the EU is of course always that when it comes to funding programmes, it needs the approval of all members, and in contrast to the USA, it can hardly ever act through targeted tax credits for renewable products, but only through quotas and corresponding project funding.

Can the run-up work like this?
With the best of consciences, I would say: it doesn't work like that. However, I think that there is slowly a realisation, also in politics, that you cannot simply set quotas and then expect industrial companies to spend money on long-term investments over 10 or 20 years that are heavily dependent on regulatory framework conditions and where they have to prove themselves in international competition in terms of their economic efficiency, for example compared to projects under the pragmatic Inflation Reduction Act (IRA) in the USA. I expect that in the medium term a gap will remain, and companies will have to pay fines in part because the quota is not met.

You mean airlines?
They are in a difficult situation. The companies will be massively challenged to meet the legal blending quotas and their climate targets in general, which often follow the strict "Science Based Targets" initiative. Above all, they will have to work with SAF. There is no other way to do it. In some cases individual financing, interest rates or loan commitments depend on the fulfilment of the CO2 reduction targets. And of course we still have the pressure from the public. That's why the airlines are clearly trying to motivate suppliers and qualify new ones. This is also why we have observed a very strong interest on behalf of Lufthansa, with whom we recently signed a memorandum of understanding on the production and supply of Sustainable Aviation Fuel "Made in Germany".

What do you realistically expect in ten years' time?
We will certainly see the demonstration of advanced biofuels for SAFs and the ramp-up there. There are also the first large projects in the USA. In the USA, however, the first generation of biofuels has been permitted so far, that is, for example, corn-based ethanol and crop-based SAF. In the EU, only second-generation biofuels are permitted. I think that we will see the first commercial Power-to-Liquid projects in this decade, there are already smaller demo projects. For example, the EU has just supported a project by Nordic Electrofuel in Norway with 40 million euros, which intends to supply 8,000 tons Power-to-Liquid fuel. Unfortunately, we won't see commercial scale-up until after 2030. Because, as always, I think the pain or the incentives have to reach a certain limit before further investments can follow and because the large-scale production of electricity-based fuels has to be established in more favoured regions, such as the global South, for import to Europe.

How can your company contribute to the SAF ramp-up?
In line with our vision, we want to lead the way as a pioneer for renewable hydrocarbons. We are building on our existing infrastructure with the planned SAF investment. Speyer is only a few kilometres away from Frankfurt Airport, ideally accessible via the Rhine river and already certified according to ISCC sustainability criteria. In addition, we have access to a pipeline from which fossil fuel can also be blended. In this way, we want to be faster on the market with large-scale volumes while taking a lower risk.
xxx
This could also be of interest to you:
Did you like that article? Feel free to leave a message using the comment function below the article or subscribe to our blog and we will keep you informed by e-mail about relevant topics: