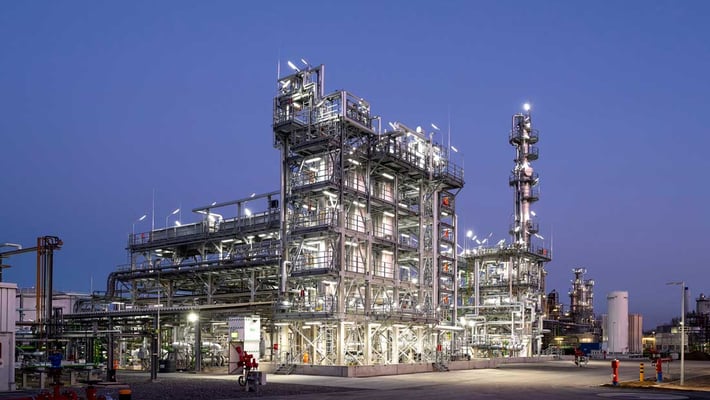 Even if we don't notice it – the feedstock Cyclopentane is part of our everyday life and also contributes to climate protection. It is the key to effective insulation in the refrigeration and construction industries. In the context of the European Green Deal and increasing promotion of energy efficiency measures, building insulation makes a significant contribution to climate protection. Insulation material manufacturers are recognising the increased demand and have a high requirement for Cyclopentane, a much sought-after but so far scarce raw material. Haltermann Carless understands the market requirements and offers solutions by investing in modern technology. Learn more.
In today's world, security of supply can no longer be taken for granted - which makes it all the more important for companies to invest in technology, production and capacity expansion. Especially when products play a key role in climate protection.
For more climate protection: demand for Cyclopentane is rising
Both in the construction industry and in the refrigeration industry, insulation material makes an important contribution to climate protection, because high insulation efficiency contributes significantly to cost savings and CO2 reduction.
Cyclopentane has a main task in this context: as a blowing agent, it ensures the foaming of the polyurethane (PU) and so ensures an insulating material with a particularly high insulating performance. Cyclopentane has the highest boiling point of all Pentane types and remains to a large extent in the cells of the foam, where it conducts heat and cold less effectively as a gas and thus ensures perfect insulation.
The demand for Cyclopentane, but also for iso-Pentane and n-Pentane, is steadily increasing as climate protection measures are pushed forward. Important drivers are the European Green Deal and the associated Fit for 55 programme, which is particularly advancing building insulation.
Haltermann Carless largest Cyclopentane producer worldwide
Haltermann Carless is the only manufacturer of all three types of Pentane in Europe and has recognised the trend towards more capacities. At the Speyer production site in Germany, which has the ideal logistical infrastructure with access to all common means of transport, the new hydrogenation plant has been put into operation. This makes it possible to increase the Cyclopentan capacity volume by up to 70 % and allows Haltermann Carless to be the largest Cyclopentane producer worldwide.
We produce our Cyclopentane in the highest quality with a particularly high purity of at least 95 %.
Whether you order large or small quantities of Cyclopentane, our customers always receive a comprehensive service geared to their needs:
Customised Pentane Blends
All mixing ratios possible
Highest quality standards through our own analysis and test laboratories
Made in Germany guarantee
Individual packaging and logistics solutions
Extensive technical support
Conclusion
Haltermann Carless has recognised the need for raw materials for climate protection applications such as insulation material made of Polyurethane (PU) foam. The new hydrogenation plant in Speyer in Germany provides the global market with new capacities of Cyclopentane. In addition, the production unit enables us to offer customers a broader portfolio and additional products with particularly high purity.
Find out more:
Do you have specific questions to us such as quantities, delivery time and services, safety, quality and more? Arrange a non-binding consultation appointment now: