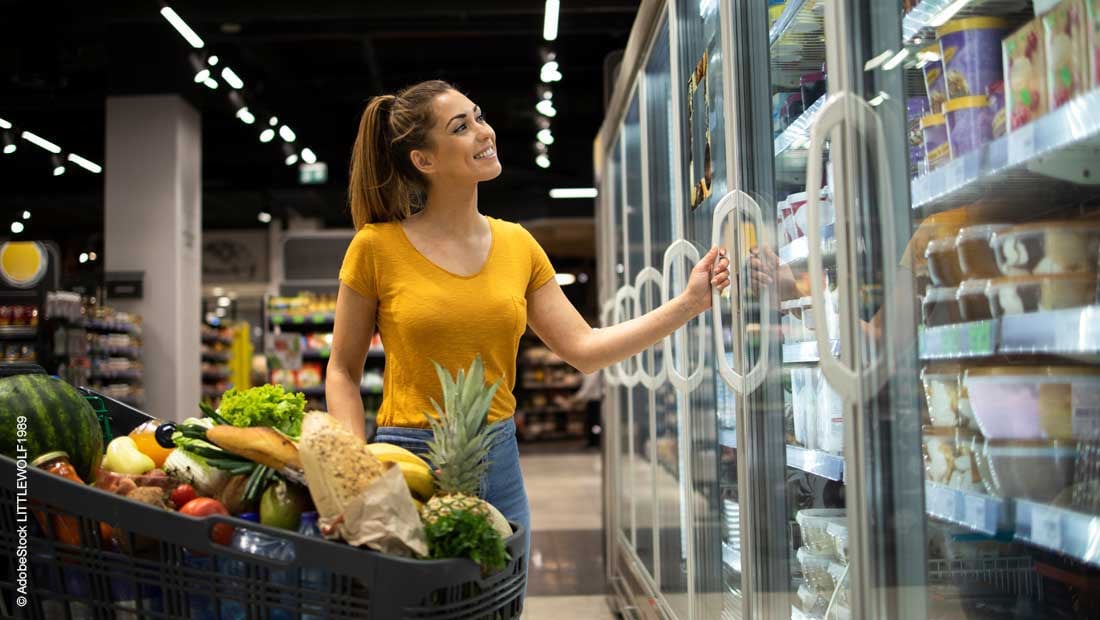 The possibility of refrigeration is an achievement for the preservation of food and thus for greater variety. However, refrigeration units or cold storage facilities are criticised for their continuous operation in terms of climate protection. Find out here how modern refrigeration systems can nevertheless be energy-efficient and make a threefold contribution to sustainability.
Refrigeration systems are not without controversy. Whether in the supermarket, in refrigerated transport, in private households or in the catering trade - they are in use around the clock. And yet it is impossible to imagine the food sector without them and they can make a greater contribution to sustainability than is often assumed.
3 arguments why efficient refrigeration is important
1. For our health protection
It is well known that cold inhibits bacterial growth. Many foods such as meat, fish, but also dairy products and eggs are therefore subject to mandatory refrigeration for reasons of hygiene. This also applies to refrigerated logistics, where the cold chain of food must not be interrupted.
This is regulated both at EU level and through many national legislations.
2. Against food waste
Food is a valuable product. Conserving it and combating throwing it away contributes to sustainability in several ways. On the one hand, the products have been produced with valuable resources, on the other hand, an important raw material is wasted and needs to be re-produced.
One of the many causes of food waste is incorrect storage. This includes poor cooling conditions or interrupted cold chains. Efficient refrigeration therefore contributes concretely to prolonging storage life and protects against rapid spoilage.
3. For more energy efficiency
Not only refrigeration itself is a sustainable factor, but also modern refrigeration equipment such as refrigerators and freezers, cold stores or refrigerated trucks contribute to environmental and climate protection and thus support the goals of the European Green Deal. The decisive factor here is particularly high energy efficiency, which saves costs and thus reduces CO2 emissions.
Polyurethane foam - the decisive difference for efficient refrigeration and more sustainability
Refrigerators and freezers, as well as other cooling options in the cold chain, for example refrigerated trucks or cold storage, include an insulating layer. In most refrigeration systems, insulating foam made of polyurethane (PU) is used for this purpose in order to achieve particularly high energy efficiency.
Polyurethane foam offers further advantages in addition to excellent insulating performance:
PU foams enable economical use of other construction materials (e.g. sheet metal) and thus also a comparatively low weight of the cooling units.
It is very durable and has a long service life.
Due to its high insulation efficiency despite a thin insulation layer, the interior space of the cooling unit can be used to the maximum.
The particularly low weight can also have a positive effect on transport costs.
Several work steps can be combined during production, thus saving time and costs.
Read more about polyurethane foam in this blog article:
Conclusion
Today, it is impossible to imagine households and businesses without modern refrigeration appliances, because in addition to preserving food, they contribute to climate protection through their high energy efficiency. In this context, the use of particularly efficient polyurethane (PU) foams is an important guarantor for saving energy costs, reducing CO2 emissions and making maximum use of refridgeration volume.
In this blog article we give a comprehensive overview of pentanes in general:
Or would you like to receive regular updates on chemical products and current trends in the chemical industry? Then simply subscribe to our free blog.