Low-viscosity base oils meet industry regulatory criteria as well as occupational safety and environmental protection regulations and technical requirements such as solution behavior, extreme temperature resistance, variable viscosities and outstanding, defined boiling behavior.
Physical Parameter
Typical data

Method

Pilot 200H

Pilot 250H

Pilot 275H

Pilot 300H

Pilot 400H

Pilot 500H

Pilot 600H

Pilot 140

Pilot 150H

Pilot 295 SR

Low aromatic Grades

Medium Aromatic Grades

Appearance

Visual

Clear & colorless

Clear & colorless

Clear & colorless

Clear & colorless

Clear & colorless

Clear & colorless

Clear & colorless

Clear & colorless
Clear & colorless
Clear & colorless

Color (Saybolt)

ASTM D 156

30

30

30

30

30

30

30

24
24

Initial Boiling Point (IBP)

280 °C

280 °C

310 °C

260 °C
260 °C
256 °C

Final Boiling Point (FBP)

320 °C

360 °C

360 °C

330 °C
320 °C
296 °C

820 kg/m3

820 kg/m3

820 kg/m3

820 kg/m3

820 kg/m3

820 kg/m3

820 kg/m3

816 kg/m3
816 kg/m3
818 kg/m3

min

. 120 °C

min

. 110 °C

min

. 118 °C

Kinematic Viscosity @ 40 °C

4.5 mm²/s

5.5 mm²/s

6.5 mm²/s

4.32 mm²/s
4.4 mm²/s
3.0 mm²/s
5.4% v
4.5% v
9% v

max. -10°C

max. -5 °C

max. 5 °C

max. -6°C
max. -5°C
max. -33°C

64741-91-9

64742-46-7

64741-91-9

64742-46-7

64741-91-9

64742-46-7

64742-80-9
64742-80-9
64742-80-9

919-029-3

919-029-3

919-029-3

919-006-8
919-006-8
920-360-0
Application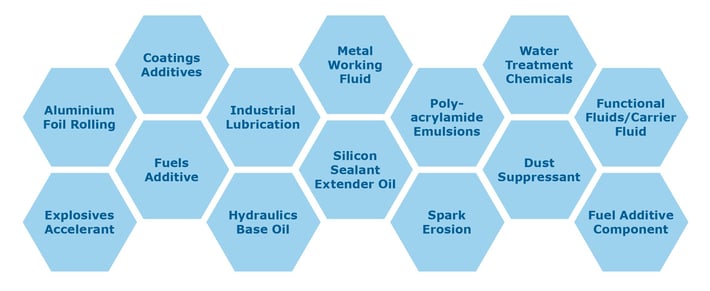 Additives
Fuel Additives & Flow Improver:
Fuel Additives & Flow Improver in fuel prevent and remove deposits, enable lubricity and guarantee cold stability. For this purpose, the various additive components are pre-dissolved in a matrix and then stirred into the product.
Lubricant Additives:
Similar to fuels, lubricants are also additivated to achieve certain performance characteristics.
Defoamers:
Foam formation occurs in a variety of processes and must be reduced or eliminated. Low-viscosity middle distillates can be used as a good and inexpensive alternative to silicon-based products. Users of such formulated products include mining, breweries, the food industry, refrigeration, wastewater treatment and other wet processing.
Paints & Coatings:
Additives have also to be added to the formulation in pre-dissolved form for paints, varnishes and coatings.
Hydraulic oils:
These oils transmit pressure and energy in hydraulic systems. Important for hydraulic fluids are low viscosity, high aging resistance and the widest possible operating temperature range.
Textile and leather
In many cases, very light lubricants and antiseizes are required when processing fibers, yarns, and fabrics. Spindle oils are free of resin-forming components and do not discolor textiles or yarns. Low-viscosity oils are also used in leather production, for example for emulsions.
Aluminium rolling oils
For aluminium rolling, our Pilot® oils offer controlled viscosities and a uniform boiling range with excellent purity consistency, while providing high evaporation performance and leaving no residues during the critical post-rolling tempering process. The FDA approvals for these Pilot® oils facilitates further clearance for the use of the foils made from them for food packaging.
Metalworking
The product portfolio of Pilot® oils offers a wide range of different physical and chemical properties. This is how important performance parameters for demanding industrial applications can be easily acheived. Pilot® oils are used in a variety of high performance applications including cutting oils, cutting emulsions, aluminium foil and sheet rolling, steel rolling, extrusion and forming oils, honing and grinding oils, quenching oils, EDM/spark erosion, corrosion inhibitors, hydraulic oils and industrial cleaners.
Silicone sealants
Our Pilot® oils are characterized by excellent material compatibility and solvent properties and are therefore used as extender oils in silicone sealants. The extender oils have a low aromatic content, a mild odor and are ideal for acetoxy and alkoxy applications.
The UV stability of our Pilot® extender oils provides excellent anti-aging and stable color properties.
Water treatment
Municipal and industrial wastewater must be treated and clarified before it is discharged into the sewer system. Particularly in the industrial sector (mining, paper), there are often suspended solids that do not settle completely even after long periods of rest. Ready-made acrylate oil emulsions facilitate clarification, and often no settling tanks are necessary.
Construction, building and industry
Pilot® oils offer a wide range of uses in building and construction. Among other uses, they are ideal for use as mould release agent in concrete applications. Some oils are used extensively in both hot and cold bitumen emulsions for road surfacing and jointing compounds. Latex-modified bitumen emulsions require special plasticity, which our aromatic-rich Pilot® oils ensure in the mixing process.
Plasticizer
Some plastics, such as PVC, are used almost exclusively with plasticizers to achieve the desired properties. For some time now, phthalates have been regarded as critical and alternatives have been called for. Certain middle distillate cuts are suitable alternatives for this purpose.