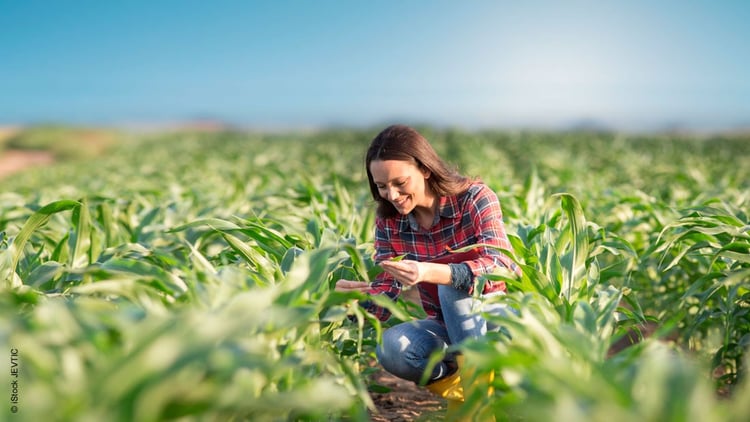 The agricultural industry has always been committed to modern product solutions that increase the quality of harvests to feed our growing global population and offer the best environmental compatibility. With its heavy aromatic solvents, Haltermann Carless makes an important contribution to safeguarding the environment and people alike.
Modern agriculture has different requirements than ten years ago: It increasingly relies on the development of sustainable processes. This is because, in addition to economic efficiency, there is also greater awareness and responsibility for society, animals and the wider ecosystem.
This is also reflected in new technologies in the agricultural industry. The demand for crop protection products with consistently high quality, precisely tailored properties and good environmental compatibility is growing.
How is sustainability in agriculture achieved?
In modern agriculture, product quality, customer service, regulatory compliance and sustainability, all go hand in hand.
With Caromax® 20, Caromax® 20 LN, Caromax® 20 XLN, Caromax® 28, Caromax® 28 LN and Caromax® 28 XLN, Haltermann Carless offers a broad portfolio of heavy aromatic solvents for crop protection. These C10 and C12 aromatics have an aromatic purity of more than 99 %. They are offered in two main boiling ranges and marketed as Caromax® 20 and Caromax® 28.
Improved environmental compatibility and application safety are criteria that are increasingly important. Haltermann Carless can meet these requirements with two heavy aromatic solvent grades with a low naphthalene content. Caromax® LN products have typically less than 1 % and Caromax® XLN products have less than 0.1 % naphthalene.
The special properties of the two Caromax® products with their extremely low naphthalene content enable the development of more sustainable end products that meet these extremely strict regulatory requirements.
In some formulations, a way to achieve greater sustainability is to use tailor-made Caromax® C12 grades, which allow cost savings by reducing the use of solvents (due to better solvency) while at the same time improve the carbon footprint of the agrochemical formulators end product.
This might be of interest to you:
Comprehensive service for customers in the agricultural industry
With the continuous optimisation of Caromax® heavy aromatic solvents, we support agrochemical manufacturers to find the right balance between suitable active ingredients (AI) and solvents to improve product performance, cost efficiency and environmental compatibility. Experienced colleagues in the laboratories control the chemical and physical composition of the Caromax® aromatic solvents from batch to batch and use modern analytical methods to ensure the Haltermann Carless quality promise.
If requested, Haltermann Carless supports customers in the approval and registration processes.
Our Caromax® heavy aromatic solvents are registered and approved by the EPA, PMRA and are fully REACH registered
We also contribute our expertise through our involvement in expert networks and committees. We are actively involved in several associations, such as
SIA (Solvent Industry Asso

c

iations)

ESIG (European Solvent Industry Group)
HSPA (Hydrocarbon Solvents Producer Associations)
With these involvements, we can help shape and monitor regulations, trends and best support our agrochemical customers.
Conclusion
The Caromax® portfolio is designed to meet today's challenges such as reliable environmental compatibility. It offers consistently high quality while taking environmental and safety aspects into account.
Advantages of heavy aromatic solvents for modern and sustainably-oriented agrochemical companies:
Heavy aromatic solvents with low naphthalene content (Caromax® LN) and extra low naphthalene content (Caromax® XLN) enable the end product to meet particularly strict legal requirements.
Excellent solubility properties of Caromax® allow its use in even the most sensitive agrochemical formulations.
Tailor-made Caromax® C12 grades enable cost savings while at the same time improves the carbon footprint of the end product, as there are fewer solvents required in the final formulation.
Would you like to learn more about the Caromax® heavy aromatic solvents? Our experts are pleased to provide you with technical advice.