Customer focus is a core element of the Haltermann Carless tradition. With our worldwide production sites and subsidiaries, we want to be close to our customers and the markets in which we operate.

Our founding fathers, Eugene Carless and Johann Haltermann, both had a good eye in selecting the ideal location for their businesses, which later on played an important role in the strategic development of the companies.
With its Hackney Wick site, which existed for decades, Carless recognized the potential as an important industrial location in London. And Haltermann demonstrated strategic foresight by choosing Wilhelmsburg. The site had access to the river Elbe, had further expansion potential and over the years became one of Hamburg's most important industrial regions.
We still make the decisions for our new locations in this tradition today. With the opening of our regional US headquarters in Troy (Detroit), Haltermann Carless has established itself in the middle of the American automotive industry and thus strengthens its global market position. The proximity to North America's automobile center and thus to leading engine and automobile manufacturers, as well as test and research facilities was one of the key reasons for choosing this location. In addition, customers from the industrial sector as well as the pharmaceutical and agricultural industries in the northwest of the continent can be offered comprehensive services.
However, we are not only future-oriented with new locations. In order to meet rising customer demands, Haltermann Carless is continuously investing in its facilities. For example, we built a new hydrogenation plant at the Speyer site with an investment volume in the double-digit million range. Thus, we are expanding one of our key sites in Germany, which has played an important role for more than 50 years.
Today as it was 160 years ago - with our strategic location decisions and investments in the future we continue to be dedicated to our customer needs.
Click here to learn more about Haltermann Carless.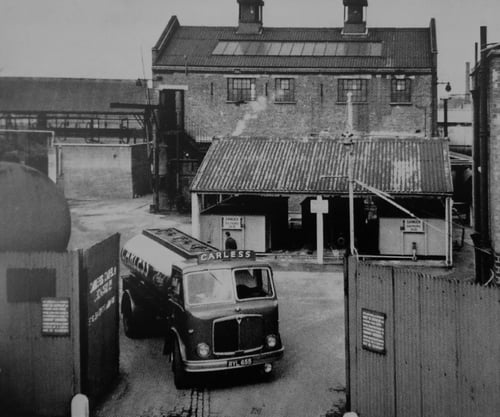 Hackney Wick site after WWII.